Marshall & Ilsley Corporation Earnings: Hoping BMO Merger Will Be a Win
S&P 500 (NYSE:SPY) component Marshall & Ilsley Corporation (NYSE:MI) reported its results for the first quarter. Marshall & Ilsley Corporation provides financial services to a variety of corporate, institutional, government and individual customers.
Don't Miss: Wall St. Cheat Sheet's newest Feature Trades of the Month!
Marshall & Ilsley Earnings Cheat Sheet for the First Quarter
Results: Loss widened to $116.6 million (27 cents/diluted share) from $115.4 million (27 cents/share). A change of 1.1% YoY.
Revenue: Noninterest income was $186.5 million last quarter.
Actual vs. Wall St. Expectations: MI fell short of the mean analyst estimate of a loss of 18 cents/share. Estimates ranged from a loss of 10 cents per share to a loss of 30 cents per share.
Quoting Management: "Our first quarter results reflect the continued stabilization of M&I's credit profile," said Mark Furlong, president and CEO, Marshall & Ilsley Corporation. "As we look to the future, we are excited about the pending merger with BMO Financial Group. It will provide additional resources to enhance our commitment to customers and local communities. Over time, our customers can look forward to increased convenience and expanded products and services. In addition, as we approach the closing of our merger, I would like to take this opportunity to thank our employees for their tireless efforts over the years and particularly leading up to the merger completion."
Competitors to Watch: PSB Hldgs. Inc (PSBQ), Associated Banc-Corp (NASDAQ:ASBC), TCF Financial Corporation (NYSE:TCB), First Business Financial Services Inc. (NASDAQ:FBIZ), Wells Fargo & Company (NYSE:WFC), Northern Trust Corporation (NASDAQ:NTRS), Bank of America Corp. (NYSE:BAC), Heartland Financial USA, Inc. (NASDAQ:HTLF), PrivateBancorp, Inc. (NASDAQ:PVTB), and Wintrust Financial Corp. (NASDAQ:WTFC)
Today's Performance: Shares of MI are up 2.08% in after hours trading.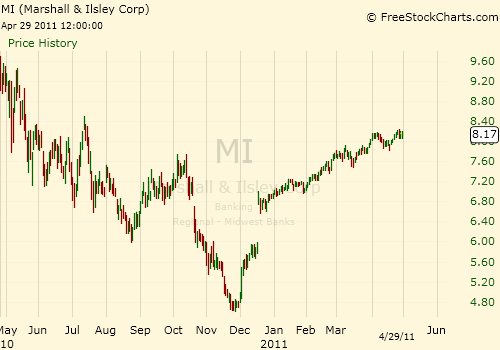 Don't Miss Wall St. Cheat Sheet's newest Feature Trades of the Month!