Martha Stewart Case Back in Court and 2 Stocks at 52-week Lows
Martha Stewart Living Omnimedia (NYSE:MSO): Closing price $2.41
Macy's and J.C. Penney & Co. (NYSE:JCP) had been given one month by Justice Jeffrey Oing as a mediation period in which to resolve their dispute, but the retailers failed to reach an accord. Thus, the trial resumed in court on Monday, said a Macy's spokesman. In March, Martha Stewart, who is directly involved in the lawsuit, took the stand to defend her decision to sign a deal with J.C. Penney, commenting, "We thought, and I hope rightly so, that we were allowed to do such a thing." Shares closed down 2.07 percent on Monday at $2.36, and have been traded between $2.28 and $3.98 in the last 52 weeks.

Walter Energy (NYSE:WLT): Closing price $22.94
On Friday, the company filed a presentation with the U.S. Securities and Exchange Commission that it used in a meeting with the proxy advisory service Institutional Shareholder Services and will be using with Walter Energy shareholders in advance of its Annual Meeting to be held on April 25. The presentation discusses in detail Walter Energy's track record of growing shareholder value over time, its strategies to enhance performance, and its progress in positioning itself for expected improvements in the metallurgical coal market. Shares closed down 3.08 percent on the day at $22.94, having been traded in a 52-week range of $22.72 to $69.41.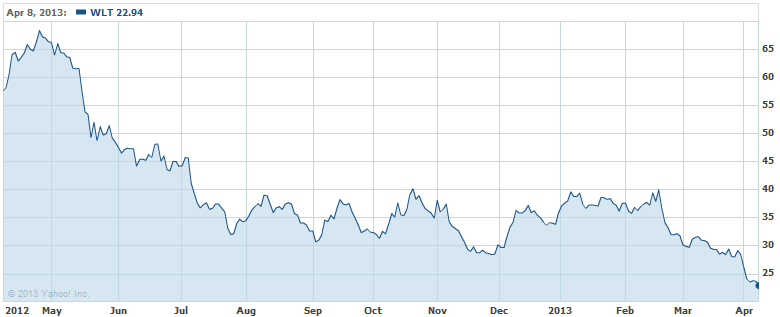 Career Education Corp. (NASDAQ:CECO): Closing price $2.20
Career Education has chosen the education investor and former Strayer executive Scott Steffey as president and chief executive, while the for-profit education firm faces declining student enrollments. Steffey takes over from Chairman Steve Lesnik, who has served as interim chief executive since late 2011, and is stepping down at Career Education's annual shareholder meeting in May. Shares closed down 3.51 percent on Monday at $2.20, and have been traded in a 52-week range of $2.14 to $7.49.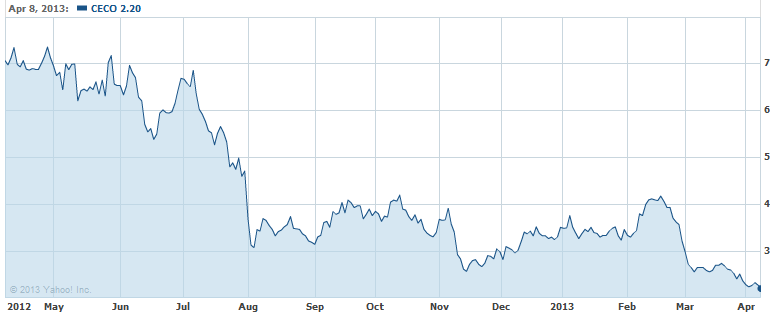 Don't Miss: Could These 4 Major Acquisitions Get Apple Back on Track?