Marvell Technology Group, Ltd. Earnings: Revenue Falls After Four Straight Quarters of Rising, Net Income Declines
Marvell Technology Group, Ltd. (NASDAQ:MRVL) reported its results for the first quarter. Marvell Technology Group Ltd. is a global semiconductor provider of analog, mixed-signal, digital signal processing and embedded microprocessor integrated circuits.
Don't Miss: Wall St. Cheat Sheet's newest Feature Trades of the Month!
Marvell Technology Group Earnings Cheat Sheet for the First Quarter
Results: Net income for Marvell Technology Group, Ltd. fell to $146.9 million (22 cents/share) vs. $205.8 million (30 cents/share) a year earlier. A decline of 28.6% from the year earlier quarter.
Revenue: Fell 6.2% to $802.4 million YoY.
Actual vs. Wall St. Expectations: MRVL fell short of the mean analyst estimate of 30 cents/share. Estimates ranged from 28 cents per share to 32 cents per share. It fell short of the average revenue estimate of $825.9 million.
Quoting Management: "The results for our first quarter reflected the typical seasonality of our consumer centric end markets" said Dr. Sehat Sutardja, Marvell's Chairman and Chief Executive Officer. "Even at this low point in the revenue cycle, we were an industry leader in profitability for both operating and cash flow margins, demonstrating the strength of our long-term business model. We remain confident that the investments we are making such as in TD-SCDMA and SSD will result in improved results throughout the year."
Key Stats:
A year-over-year revenue decrease last quarter snaps a streak of four consecutive quarters of revenue increases. The best quarter in that span was the first quarter of the last fiscal year, which saw revenue rise 64.1%.
The company has now fallen short of estimates in the last two quarters. In fourth quarter of the last fiscal year, it missed expectations by one cent with net income of 36 cents versus a mean estimate of net income of 37 cents per share.
Competitors to Watch: Texas Instruments Inc. (NYSE:TXN), Intel Corporation (NASDAQ:INTC), Broadcom Corporation (NASDAQ:BRCM), PLX Technology, Inc. (NASDAQ:PLXT), Standard Microsystems Corp. (NASDAQ:SMSC), PMC-Sierra, Inc. (NASDAQ:PMCS), LSI Corporation (NYSE:LSI), STMicroelectronics N.V. (NYSE:STM), and NVIDIA Corporation (NASDAQ:NVDA).
Stock Performance: Shares of MRVL are up 2.7% from the previous close.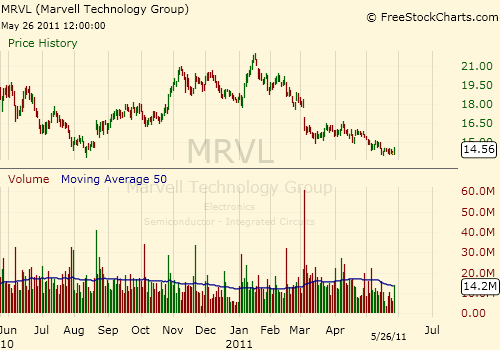 Don't Miss Wall St. Cheat Sheet's newest Feature Trades of the Month!
(Sources: YahooFinance, Xignite Financials)