Massive Media Stocks Seeing Movement
Time Warner Cable (NYSE:TWC): Shares of Time Warner Cable are on a tear as rumors that both Charter Communications and Comcast (NASDAQ:CMCSA) are exploring the idea of pitching bids for the provider. CNBC is reporting that, "Time Warner Cable makes it clear that Comcast is the preferred buyer," and although anti-trust issues will certainly pose concerns, many media analysts think that a Comcast-Time Warner mix makes more sense than Time Warner-Charter deal, Seeking Alpha reports.

AOL Inc. (NYSE:AOL): After AOL announced earlier this week that it would be shutting down the WinAmp media player program, it seems that Microsoft (NASDAQ:MSFT) is in talks to buy it up, along with Shoutcast, a media streaming service also developed by Nullsoft, which AOL bought in 1999. "AOL has never given much of a strong direction to the products at a time when other digital music companies have been building up audiences and evolving technologies," TechCrunch says.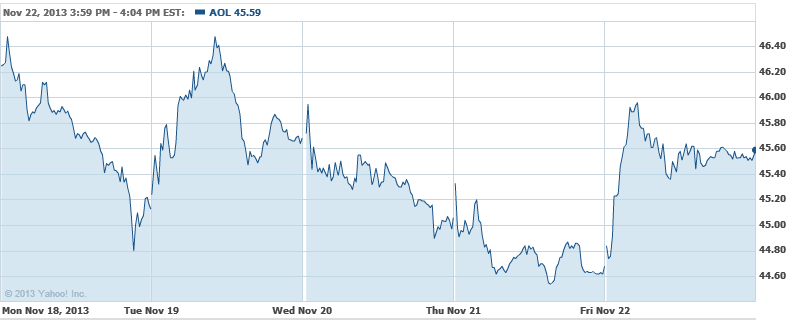 Walt Disney Co. (NYSE:DIS): Disney's highly anticipated flick Frozen launched today, but on a single screen, Forbes reports. It won't be until November 28 that the remaining 4,000 theaters nationwide pick up the movie, but until then, it will be shown exclusively at Hollywood's El Capitan. This isn't a new strategy for Disney either, but rather tradition: 1991′s Beauty and the Beast opened on two screens initially, as did Aladdin and The Nightmare Before Christmas. Each brought in some of the largest per-screen hauls for their day, and Disney is trying to replicate the magic.

Don't Miss: 5 JFK Movies Everyone Should See.