May: Last Month for Home Price Gains?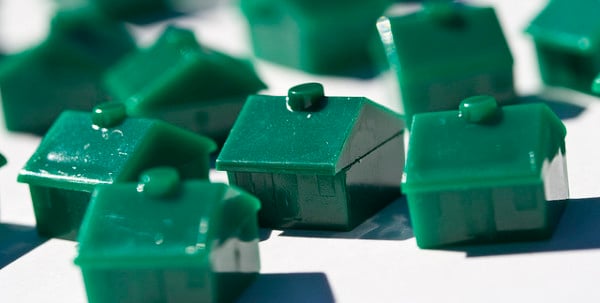 The solid recovery in the housing market has pushed home prices to record gains for yet another month. Standard & Poor's/Case-Shiller Home Price Index showed that property values increased by the most in seven years in the month of May, climbing 12.2 percent from the same month last year. While April's 12.1 percent increase came close, this 12.2 percent jump was the biggest 12-month gain since March 2006.
However, the results did fall below the 12.4 percent gain predicted by Bloomberg analysts.
In May, historically low borrowing costs, a short supply of available houses for sale, and the improving U.S. job market — which has boosted consumer demand for residential property — contributed to steadily rising home prices. In return, rising home prices have benefited the larger market: thanks to the corresponding rise in home equity, household finances of homeowners are strengthening, a phenomenon that could jump start growth in consumer spending, which accounts for approximately 70 percent of the U.S. economy.
"We continue to look forward to upward momentum" in the housing market, Wells Fargo Securities senior economist Anika Khan told Bloomberg. Wells Fargo Securities is a subsidiary of the largest U.S. mortgage lender. "We still have historically low inventory levels," she added.
It is important to remember that the S&P/Case-Shiller index is based on a three-month average, meaning that May's figure was influenced by transactions made in March and April. In April, total existing home sales increased 0.6 percent to a seasonally adjusted annual rate of 4.97 million, a slight increase from March's 4.94 million, a 9.7 percent jump from year-ago levels, and the highest annual sales rate on record since November 2009.
Meanwhile, the inventory of homes for sales expanded to a 5.2 month supply from 4.7 months in April. Realtors consider a six-month supply to be a balanced market between buyers and sellers. Home sales were also selling at a faster rate in April — the median time on the market for all homes was 46 days, down from 62 days in March and 83 days a year earlier.
"Home prices continue to strengthen," Chairman of the Index Committee David M. Blitzer said in a press release. "Two cities set new highs, surpassing their pre-crisis levels and five cities — Atlanta, Chicago, San Diego, San Francisco and Seattle — posted monthly gains of over three percent, also a first time event." All 20 cities in the index exhibited year-over-year price gains, but the greatest gains came in San Francisco, with a 24.5 jump, and Las Vegas, with a 23.3 percent increase. Comparatively, New York posted the smallest gain in the index, rising just 3.3 percent.
In addition, the report pointed "to some shifts among various markets: Washington DC is no longer the standout leader and the eastern Sunbelt cities, Miami and Tampa, are lagging behind their western counterparts," Blitzer said.
The housing market has given economists other indications that it will continue to strengthen and that prices will continue to rise. Sales of previously owned homes dropped to an annualized rate of 5.08 million in the month of June, the second-strongest rate on record since November 2009, according to the National Association of Realtors. But at the same time, the median price rose 13.5 percent, marking the seventh straight month that property values increased by 10 percent or more. The median price of a new home rose 7.4 percent last month to $294,700 from $232,600 in June 2012, the Department of Commerce reported last week.
Rising prices could be one reason homebuilders are gaining confidence in the housing market. The National Association of Home Builders, in conjunction with Wells Fargo, announced the homebuilder sentiment index hit its highest level since January 2006 this month and rose 13 points in the last two months.
But steadily rising borrowing costs could act as a constraint to any further increases in upcoming months. The average rate on a 30-year fixed mortgage was 4.31 percent in the week ended July 25, an increase from 3.49 percent a year earlier, according to Freddie Mac.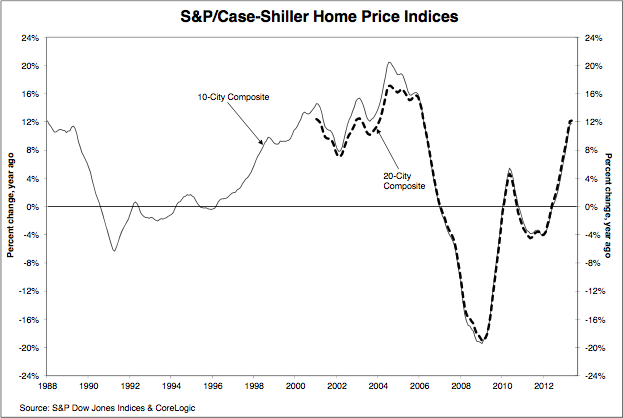 Follow Meghan on Twitter @MFoley_WSCS