MBIA and BofA Reach Accord On Dispute and 2 More Heavily Traded Stocks To Follow
MBIA (NYSE:MBI): Closing price $14.29
On Monday, the bond insurer MBIA and Bank of America Corporation (NYSE:BAC) have reached a resolution in an ongoing legal dispute, for which  knowledgeable sources say that BofA will pay MBIA $1.6 billion. Further, Bank of America will provide MBIA with a $500-million credit line and receive a 4.9-percent interest in the company as part of the settlement, reported one of the sources. Meanwhile, MBIA shares were temporarily halted, and then jumped by 50 percent in afternoon trading to their highest level since September 2008.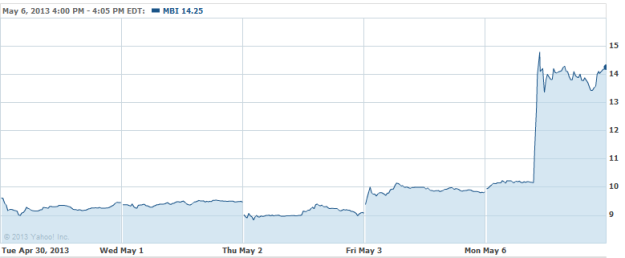 Citigroup (NYSE:C): Closing price $47.48
At a hearing on Friday, United States District Judge Jesse Furman in Manhattan blocked a securities arbitration against Citigroup, thus permitting the bank to avert fighting a multi-million dollar case before Financial Industry Regulatory Authority arbitrators.
Over and over, banks have challenged whether large plaintiffs can bring cases regarding damages incurred during the financial crisis as arbitrations before FINRA, which is the financial industry's self-regulator, rather than litigating in the courts. However, sometimes plaintiffs prefer FINRA as a venue, partly because the arbitration process is thought to be faster than if a dispute plays out in court.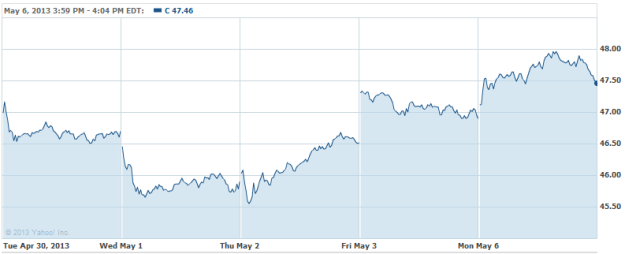 American International Group (NYSE:AIG): Closing price $
AIG saw its property-casualty units ratings upgraded at Standard & Poor's, subsequent to Chief Executive Robert Benmosche divesting assets to repay a government bailout and thus simplify the firm. In a Monday statement, the ratings firm lifted the financial-strength grade to A+ from A on AIG, and commented that "management is now focused on improving the operating results and credit profile of the ongoing operations. The company has been making significant investments in staff, systems, and underwriting tools to improve the profitability of its property-casualty operations."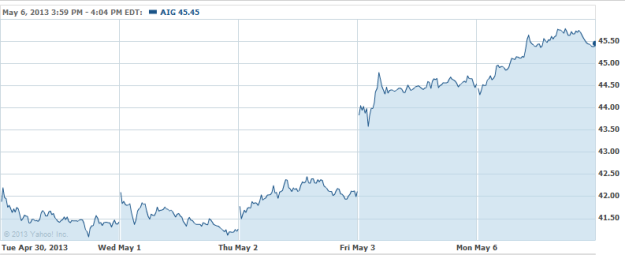 Don't Miss: Does the Fed Keep Warren Buffett Up at Night?