McDonald's Adds More to Its Dollar Menu, China Slows GSK Results, and 3 More Hot Stocks
McDonald's Corp. (NYSE:MCD): As the next stage of its menu revitalization, McDonald's will be renaming its Dollar Menu the "Dollar Menu & More," and it will feature items that may push into the $5 ballpark. The move is representative of the company's drive to fill the gray area between $1 items and more premium offerings; McDonald's executives believe a new pricing ladder will help customers see more value in each item.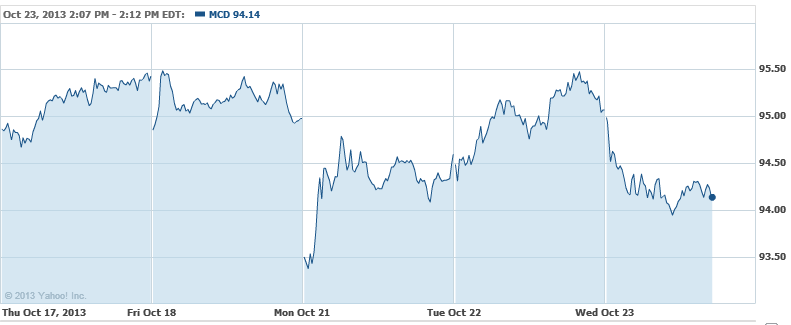 GlaxoSmithKline (NYSE:GSK): GlaxoSmithKline shares are slumping nearly 2 percent after the drug maker revealed core earnings per share of 28.9 pence and revenue of 6.51 billion pounds. Seeking Alpha notes the 9 percent decline in EMAP pharmaceuticals and vaccines sales, which was driven largely by a 61 percent decline in China, tied to the ongoing bribery investigations. Otherwise, pharmaceuticals and vaccines sales growth in other markets did well: the U.S. rose 2 percent, Europe is up 5 percent, and Japan saw 2 percent put on.

Nasdaq OMX Group (NASDAQ:NDAQ): Nasdaq OMX saw EPS of 66 cents, beating by 4 cents, while revenue of $506 million rose 23 percent over the year-ago quarter and beat by $3.38 million. Much of the gain was led by acquisitions like eSpeed and Thompson Reuters but still grew 4 percent on an organic basis. Expenses surged 32 percent to $304 million from last year, again attributed to the same acquisitions.

Motorola Solutions (NYSE:MSI): EPS of $1.32 beat estimates by 30 cents, as $2.11 billion missed slightly, by $0.02 billion. Motorola is now expecting its 2013 revenue to fall flat year on year, down from the previously guided flat to up 1 percent. Government sales — which make up 69 percent of revenue — were dented by the shutdown and fell 4 percent for the third quarter; enterprise sales managed to turn positive, increasing by 2 percent after falling by 5 percent in the second quarter for Motorola.

Honda Motor Co. (NYSE:HMC): Honda revealed its intentions for the upcoming Tokyo Motor Show, where the company will display a new mini roadster (currently titled the S660) alongside the new NSX and a new small crossover based on the new Fit compact. The S660 — named for its 0.66-liter engine — is only intended for the Japanese market for now, but could make its way stateside sometime in the future to fill a noticeable gap in Honda's lineup where the S2000 once lived.
Don't Miss: 10 Fast Food Companies That Are a Burden on Taxpayers