McDonald's Adjusts Its Pricing Balance, Tesla's Cross-Country Road Test, and 3 More Hot Stocks
McDonald's (NYSE:MCD): Though McDonald's Dollar Menu is an appealing, budget-friendly platform for consumers, it poses difficulties for the franchisees' ability to operate their kitchens or grow profitability. While new price tiers ($2-$5) are being experimented in some locations, its believed that a national rollout of the new pricing structure could help alleviate operational complexities and bolster profitability.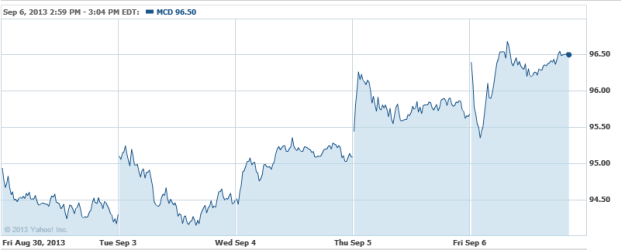 Tesla Motors (NASDAQ:TSLA): CEO Elon Musk has announced that he will be taking a cross-country trip in the company's Model S sedan, squaring off with one of the largest points of contention about the EV range. Musk will travel 3,200 miles in six days and claims he can accomplish the feat using just 9 hours for charging during the voyage. "At 1.5 hours a day, we will only ever need to charge when stopping anyway to eat or sightsee, never just for charging itself" Musk tweeted. Seeking Alpha notes that "the planned trip could also be an indication that the Supercharger network is being built quicker than forecast."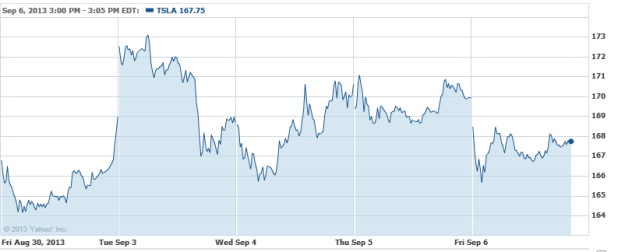 Wendy's Company (NYSE:WEN): As McDonald's struggles to find the balance on pricing, Wendy's has already found its working formula. The Right Price Right Size value menu has been working splendidly for the chain, with its stock up over 40 percent for the year. "That's where Wendy's got the jump on everybody, with the graduated value menu," Richard Adams, a former McDonald's owner-operator who now consults franchisees, said. "McDonald's should have done this at the same time Wendy's made their course correction."

Oasis Petroleum Inc. (NYSE:OAS): Oasis' purchase of Williston Basin property has drawn lots of analyst support, as upgrades help the stock trade higher. Deutsche Bank says the deal reduces risk of a dilutive deal in another basin; RBS believes that the company has established an "enviable position" in the Williston play and the acquisition is "highly accretive"; while Jefferies puts a Street-high $68 price target on the shares.

Prosensa Holding N.V. (NASDAQ:RNA): Prosensa shares are lifting as the company says it's started dosing the first patient in its Phase I/II clinical trial of PRO053, a treatment for Duchenne muscular dystrophy. The tests are designed to monitor and record the safety, efficacy, tolerability, and pharmacokinetics of multiple doses of PRO053 in a subset of patients with the disease. Prosensa says that the dug may be applicable to about 8 percent of all Duchenne patients.