McDonald's and 4 Dow Consumer Stocks Making Waves This Week
Wal-Mart Stores (NYSE:WMT): Current price $79.08
Austin Smith at Motley Fool analyzes the most recent scrimmage between Amazon.com (NASDAQ: AMZN) and Wal-Mart, as currently both firms offer same-day delivery and pickup lockers. Observers may wonder if this gives Wal-Mart a clear advantage, but Smith says that customer demographics and purchasing habits are quite different between the two firms, and Wal-Mart still has the brick-and-mortar overhead that Amazon does not. Further, he notes that Wal-Mart has matched the services Amazon offers, but it hss yet to win an obvious victory.
Walmart will work jointly with Warner Bros. to provide its customers exclusive access to Warner Bros. Pictures and Legendary Pictures' Man of Steel in theaters across the United States, before the film's official debut. This program represents the first time in the annals of entertainment that a studio has collaborated with a retailer to give such an opportunity to fans. Tickets for the exclusive screening of Man of Steel will become available in over 3,700 Walmart stores beginning at 8 a.m. on May 18. There will be a limit of four tickets per visit, and buyers will be able to choose between 2D or 3D showings, where applicable. The advance screening will be in selected local theaters nationwide at 7 p.m. on June 13.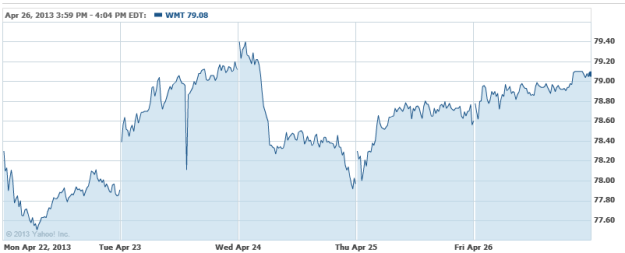 Don't Miss: Most Americans Missed the 'Economic Recovery.
The Coca-Cola Company (NYSE:KO): Current price $42.11
Chicago Mayor Rahm Emanuel, Coca-Cola and Keep America Beautiful announced on Monday a $2.59-million grant in support of the citywide expansion of the Blue Cart Recycling Program via the purchase of 50,000 blue cart recyclers during the next five years. To that effect, Coca-Cola and its philanthropic unit, The Coca-Cola Foundation, are granting $2.59 million over the next five years to Keep America Beautiful, through which to boost citywide recycling and to hopefully inspire Chicagoans to recycle more. The investment supports Mayor Emanuel's hope to make Chicago "the greenest city in the world" and to provide blue cart recycling to all 50 wards in the city.
The company Chairman and Chief Executive Muhtar Kent and Berkshire Hathaway's Chief Executive Warren Buffett were on stage to conduct Coke's on-Stage question-and-answer session at the Annual Meeting of Shareowners in the Cobb Galleria Center at Atlanta. Berkshire Hathaway (NYSE:BRK-B) is the biggest shareowner of Coca-Cola; Buffett told the audience of 850: "We've never sold a share and I wouldn't think of selling a share [of Coca-Cola stock]."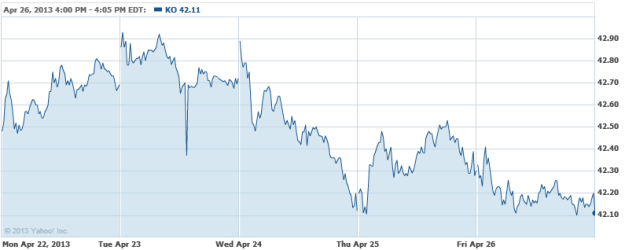 Don't Miss: The Real Estate Market Receives Another Boost.
Procter & Gamble (NYSE:PG): Current price $77.17
Earlier in April, Procter & Gamble reported that 45 of its global facilities have now achieved the level of zero manufacturing waste to landfill. In anticipation of Earth Day, the firm now shares a short video Worth from Waste, along with an invitation to its Sustainability Live Chat on Monday. Viewers may view the video and register for the Live Chat by means of the self-contained unit, called a Content Capsule, that can be shared across all social media channels.
P&G's award-winning African-American consumer campaign My Black is Beautiful brought its message to the public via film, with the debut of the Imagine a Future documentary, in association with Tribeca Film Institute on April 21 in New York City. In partnership with UNCF and BLACK GIRLS ROCK!, the campaign hosted an intimate screening of the Imagine a Future documentary for prominent film industry movers and distinguished guests, offering them a first peek at the film that explores beauty and self-esteem matters which challenge black women and girls.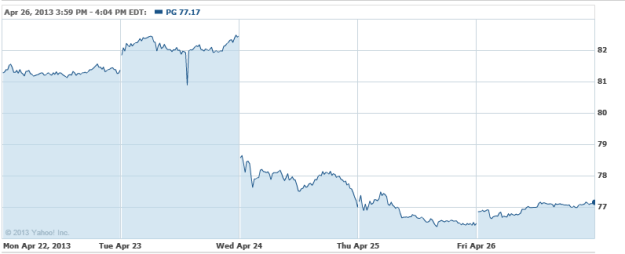 Don't Miss: AT&T Will Help Juice Samsung Galaxy S4 Sales at Launch.
McDonald's Corporation (NYSE:MCD): Current price $100.89
The consumer protection agency Procon, in the state of Sao Paulo in Brazil, has targeted the Happy Meal, penalizing McDonald's on Monday for aiming at children with its advertising and toys. The agency fined the fast-food behemoth $1.6 million, adding fuel to a worldwide debate regarding fast food and public health. As in Brazil, which is Latin America's largest economy, a lot of the debate surrounds how McDonald's and other fast-food chains market to children and other young consumers.
Speaking on CNBC's Squawk on the Street, McDonald's President and Chief Executive Don Thompson offered a look into the future of his company. Thompson was asked if a potential exists for McDonald's to serve breakfast all day; he replied, "Yes, we would consider it. We have the focus on our existing menu, but we have looked at breakfast across the day. We have it in some markets around the world." Explaining that McDonald's has indeed explored some "innovative ways" to expand breakfast hours for customers, he commented, "I think we'll be seeing some of those things in the near future."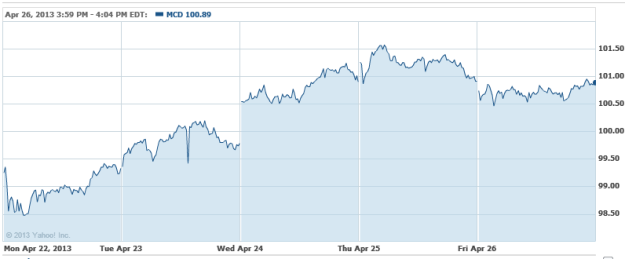 Don't Miss: David Einhorn's Vodafone Call is Getting Louder.
The Walt Disney Company (NYSE:DIS): Current price $61.77
Disney Consumer Products has begun a nationwide search for the Winnie the Pooh Storyteller of the Year. The Storyteller of the Year user-generated contest invites parents to share the bear's story in a creative way via video and the use of amusing props such as Pooh plush toys, puppets, blankets, or any other Pooh item. To enter, contestants should create a simple, one-minute video that's full of "wonder" or funny, as they read a select Winnie the Pooh story to their child and show their favorite Pooh items. Videos may be submitted online or from any mobile device, from April 22 through May 15.
The three biggest cinema chains in the United States have made terms to screen Walt Disney's Iron Man 3, thus resolving a revenue-sharing battle that threatened the first film of the summer movie season. The largest, Regal Entertainment Group, and the second-biggest AMC Entertainment Holdings were accepting online orders for the May 3rd debut, according to the companies. The number-three chain, Cinemark Holdings , will now also sell tickets, said to a Disney spokesman, but the terms of the agreements were not reported. The chains had opposed the studio's demand for a larger slice of ticket sales, while Iron Man 3 is forecast to be one of the biggest films of 2013, with opening weekend sales of $151 million predicted in the U.S., says Boxoffice.com.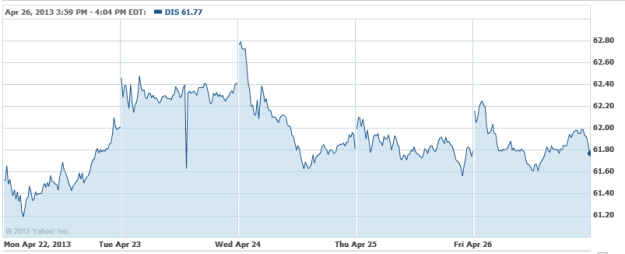 Investing Insights: AT&T Earnings: Here's Why Investors Are So Sullen.