McDonald's Customer Issue, Herbalife's Legal Troubles, and 3 More Hot Stocks
McDonald's Corp. (NYSE:MCD): A Goldman Sachs survey of consumers is signaling that McDonald's may be losing customers. "It has not had strong innovation for the past few years, it is losing advertising share of voice and it is the restaurant consumers are least likely to recommend to their friends/family," said Goldman analyst Michael Kelter. Perhaps even more urgent is that McDonald's ranked last in a list of 23 fast food chains in terms of food quality, healthfulness, and customers' willingness to pay more for the food than is currently charged, the survey revealed.

Herbalife Ltd. (NYSE:HLF): A motion to dismiss a lawsuit in which California resident Dana Bostick seeks to represent a putative class charging Herbalife of violation of the state's Endless Chain Scheme Law – among other laws and codes — has been denied. Bostick "contends that he cannot make a profit because Herbalife's system of graduated discounts means those getting products at a 25 percent discount must compete with those getting a 50 percent discount." Bostick also says that the company's "structure systematically rewards recruiting other distributors over retail sales."

Johnson & Johnson (NYSE:JNJ): More on Johnson & Johnson's earnings, as heard on the company's recent conference call: CFO Dominic Caruso says the company maintained "double-digit growth … somewhere near 11 percent, 12 percent combined in the BRIC markets" for the third quarter. In China, the company saw "an overall slower level of market growth" for the period. "The consumer business has had some challenges related to the overall economic slowdown [but] certain pockets of the business … are doing extremely well," Caruso notes.

Netflix Inc. (NASDAQ:NFLX): Netflix has inked an agreement with Walt Disney Studios (NYSE:DIS) that gives the former exclusive pay-TV rights in the Netherlands for all animated and live action films Disney releases in the region. Slated to begin next year, the terms include both new and library products and features titles from all of Disney's studios, The Hollywood Reporter says.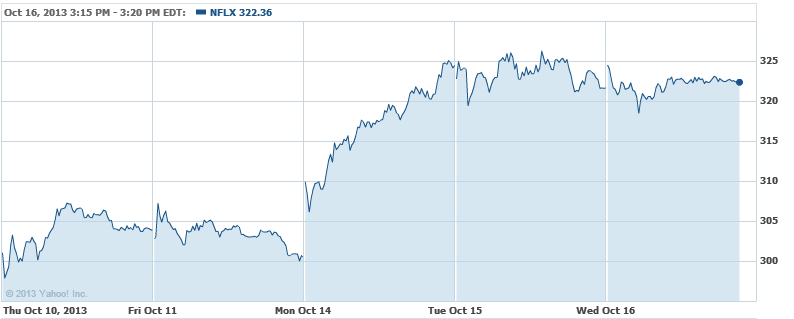 J.C. Penney & Co. (NYSE:JCP): Warren Buffett's appearance on Squawk Box and his support of J.C. Penney have helped lift the troubled retailer's shares more than 3 percent; Buffett said he is "not worried about the company's survival; we're shipping to them under normal terms."

Don't Miss: Is Declining Soda Drinking in North America Hurting Pepsi?