McDonald's Denies Obnoxious Ad and 2 More Consumer Stocks at 52-Week Highs
McDonald's Corporation (NYSE:MCD): Closing Price $103.59
FoxNews.com is reporting that McDonald's is attempting to distance itself from an ad that is said to trivialize depression. The ad appeared on Boston's mass transit in April, and depicts a woman with her head in her hand, with a headline that reads: "You're Not Alone." The words "Millions of people love the Big Mac" are in smaller print, and included is an 800-number which is the line for McDonald's. Company representative Nicole DiNoia for the Boston area, said in a statement to Time magazine that the ad was "not approved by McDonald's and that we asked that it be taken down immediately. We have an approval process in place with our marketing and advertising agencies to ensure that all advertising content is consistent with our brand values. Regrettably, in this incident, that process was not followed. We sincerely apologize for this error." Shares closed up 1.57 percent on Friday at $103.59, and have been traded in s 52-week range of $83.31 to $103.70.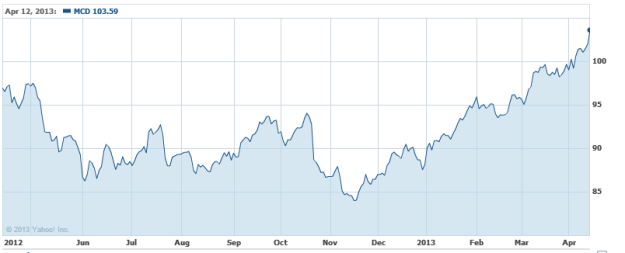 Macy's (NYSE:M): Closing price $44.43
In the court case between Macy's and J.C. Penny & Co. (NYSE:JCP), Friday's ruling was a major win for Penney's, which will now be permitted to sell a line of products known as "JCP Everyday," designed by Martha Stewart's company, that will be sold in Martha Stewart "stores within stores" at most Penney locations, for now. Macy's had requested that those JCP Everyday products be added to the list of items that JCP is disallowed from selling. Losing that motion to Macy's would have cost Penney's millions of dollars, and forced it to throw out the products it intends to fill the shelves of the Stewart sections set to open in April. Nonetheless, Macy's shares closed up 0.27 percent on the day at $44.43, having been traded between $32.31 and $45.39.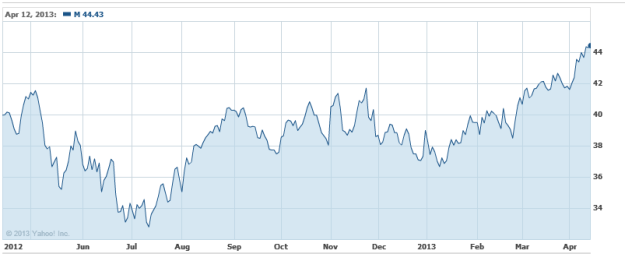 Safeway (NYSE:SWY): Closing price $26.85
The grocery giant's majority-owned subsidiary Blackhawk Network Holdings reported that it has modified the registration statement for its initial public offering with the Securities and Exchange Commission. The firm now expects to raise as much as $220 million from the IPO. Blackhawk Network has now priced 10 million shares at an estimated offering price of $20 to $22 per share. The IPO will be made up solely of shares by current stockholders, including Safeway. The underwriters have an option to buy another 1.5 million shares. Safeway shares closed up 0.64 percent on Friday at $26.85, and have been traded in a 52-week range of $14.73 to $27.00.

Investing Insights: Can Kellogg Continue This Bull Run?