McDonald's Franchisees Squawk After Mighty Wings Fail to Take Off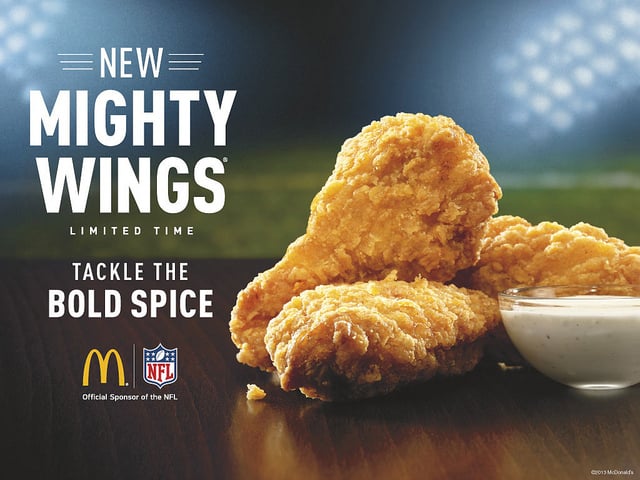 McDonald's (NYSE:MCD) may have perfected the hamburger, but it is clear that the world's largest fast food chain still has some ground to cover when it comes to the chicken wing. McDonald's franchisees aren't happy with how poorly the chain's Mighty Wings sold in their seasonal promotion in the fall, and now, some are blaming it on the Dollar Menu.
The Wall Street Journal reports that McDonald's purchased approximately 50 million pounds of wings for a limited-time promotion in September, and approximately 20 percent of that inventory remains, according to a person familiar with the matter who spoke to the publication. The wings are now in frozen storage and will be set free once the Oak Brook, Illinois-based company decides to offer another promotion, but McDonald's franchisees are still disgruntled with their poor performance.
One franchisee told the Journal, "Mighty Wings are proving once agin that we can't sell premium items in large numbers because we still have the Dollar Menu."
A number of factors have been cited for consumers' disinterest in the wings, but along with Dollar Menu complaints, franchisees believe the Mighty Wings were priced too high — not to mention that they were too spicy. The chicken came in three-, five-, and 10-piece bone-in chicken wing deals that started at $2.99. Even CEO Don Thompson admitted in late October that the wings' price "was not considered the most competitive," according to The Wall Street Journal.
McDonald's began offering Mighty Wings after suffering months of sluggish sales and the effects of a slow economy — the chain felt the need to expand its offerings for the fall season. Along with the wings came a pralines and creme McFlurry, pumpkin spice lattes, pumpkin pies, and a Southwest premium McWrap, but none of the offerings took off as much as McDonald's would have liked. The company continues to suffer flattened demand and customer dissatisfaction with its food.
Now, in order to get the wings out of its freezer, McDonald's plans to launch another promotion that involves the offering, this time selling them at a lower price. According to the Journal, many franchisees complained that the wings were selling poorly because they were priced above competitors' offerings, and now it looks like McDonald's executives are taking those criticisms to heart.
Franchisees have no choice but to participate in the new promotion, especially because if they don't sell the wings, they're expected to pay for the excess inventory. Despite their discontent, they can at least hope that McDonald's has learned from its first experiment with the wings. Next time Ronald McDonald chooses poultry, he'll hopefully go easy on the spice and easy on the price.
More from Wall St. Cheat Sheet: