McDonald's Has This Appetizing News for Its Faithful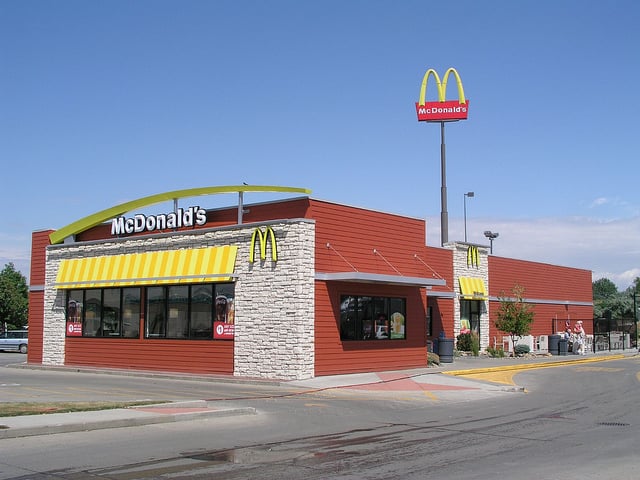 McDonald's (NYSE:MCD) wants to make sure all of its Millennial customers are still "Lovin' It," and that's why the fast food giant is now testing out a loyalty program that it believes will better appeal to its Generation Y consumers and their smartphones.
According to Bloomberg, McDonald's has confirmed that it is launching an electric loyalty program in about 570 United States locations with the help of mobile solutions marketer Front Flip LLC. Similar to programs employed by Starbucks (NASDAQ:SBUX) and Panera Bread Co. (NASDAQ:PNRA), the program rewards frequent customers with free food and other offerings, and also promises deals that are expected to drive traffic into McDonald's stores.
Customers can enter to win prizes by making food purchases and then scanning a QR code, a pixelated square that can be read by a smartphone; it's technology many Millennials are already familiar with.
So far, the program has been tested in about 420 McDonald's stores, and Bloomberg reports that the fast food chain is adding 150 locations in the coming weeks. McDonald's has more than 14,100 stores in the U.S., so the impact still isn't felt by most, but should the program take off, customers can expect to win prizes ranging from free cheeseburgers to buy one, get one free Big Macs — as long as they make frequent McDonald's purchases.
The new program comes as McDonald's launches a national effort to drive more lucrative in-store sales after several poorer-than-expected earnings reports. As consumers become more health and cost conscious, the Oak Brook, Illinois-based company is experiencing an unexpected demand drop-off, and it is now rolling out a number of new menu items to help offset those losses.
Chicken wings and pumpkin lattes are just two of the seasonal offerings fast food lovers can purchase at the chain this fall, and other options — like steak-and-egg breakfast sandwiches, chicken McWraps, and quarter-pounder burgers — still frequent the menu.
In addition to the fresh items, Bloomberg also reports that McDonald's has been testing a new mobile payment app in order to make purchasing meals at the fast-food chain that much easier. McDonald's reported earlier in September that it is testing an app in Salt Lake City and Austin, Texas, that allows customers to order via a mobile phone and then pick up the food in stores, curbside, or at the drive-thru. Although still in its preliminary testing stages, such a mobile payment app would complement a loyalty program exceptionally well, and customers could also expect to benefit from promotions, deals, and offers.
Sara Senatore, an analyst at Sanford C. Bernstein & Co., told Bloomberg, "Younger people are certainly more inclined to use mobile payments and ordering and also probably more inclined to be members of loyalty groups." That's what McDonald's hopes, at least, and it'll soon see if those predictions ring true.
Don't Miss: Here's How Apple Helped Verizon and T-Mobile Grow.