McDonald's Heckled At Shareholder Meeting and 2 Other Dow Movers to Watch
McDonald's Corporation (NYSE:MCD): Current price $100.17
On Thursday, the fast-food behemoth was confronted by speakers associated with an advocacy group in regards to its menu and its advertising towards children. In an opportunity for critics to face executives, McDonald's allotted for 30 minutes for attendees at a shareholder meeting to ask chief executive Don Thompson some questions. A 9-year-old girl asked Thompson to stop "tricking kids into eating your food," referring to the company's advertising for prompting kids to "keep bugging their parents" for the menu items. Another speaker requested that McDonald's remove its locations from hospitals, and others asked that it cease targeting communities of color by recruiting stars like Olympic gymnast Gabby Douglas and the NBA's LeBron James.

Procter & Gamble (NYSE:PG): Current price $81.86
Chief Executive Bob McDonald of Procter & Gamble has stepped down suddenly, after being with the firm for 33 years. He will be replaced by his predecessor, A.G. Lafley, perhaps on a temporary basis. The announcement follows pressure from the activist investor Bill Ackman, according to Forbes. Last summer, McDonald was thought in jeopardy of losing his position, subsequent to a series of reductions to profit forecasts dismayed analysts and investors, perhaps prompting Ackman to enter the picture, unveiling a $1.8 billion stake in the firm.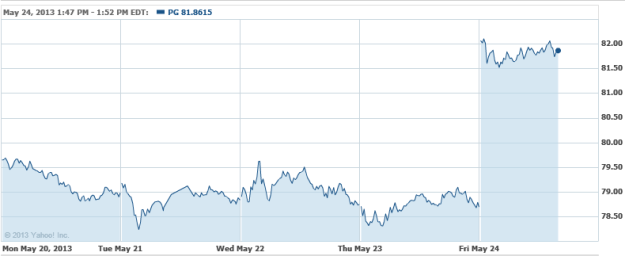 Merck & Co. (NYSE:MRK): Current price $46.90
Merck has ceased development of preladenant, which is an experimental drug for Parkinson's disease, after initial data from three late-stage trials was  disappointing. The company said that the decision to discontinue the studies was not based on any safety findings. Vice President, Clinical Research, Neuroscience and Ophthalmology at Merck Research Laboratories David Michelson said in a statement: "Parkinson's disease is very complex, making it difficult to treat patients and develop novel therapeutic approaches. We are committed to neuroscience research and will be conducting further analyses of the data to inform the scientific community's efforts in finding new approaches to treat this debilitating disease." Merck announced that results of the studies will be presented at an upcoming scientific meeting and also submitted for publication in a medical journal.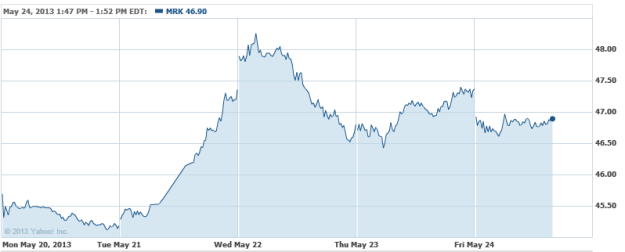 Don't Miss: Is the Next iPad Getting This New Audio Feature?