McDonald's is Tired of Rude Employees and 2 Dow Movers To Watch
McDonald's Corporation (NYSE:MCD): Current Price $102.39
Facing sagging sales at its United States outlets, the number-one fast food megalith is going for a manners makeover. The Wall Street Journal reports that McDonald's is pressing franchise owners to improve service in the wake of rising complaints about rude employees. In a webcast, executives told franchise owners that the top customer complaint was said to be rude or unprofessional employees.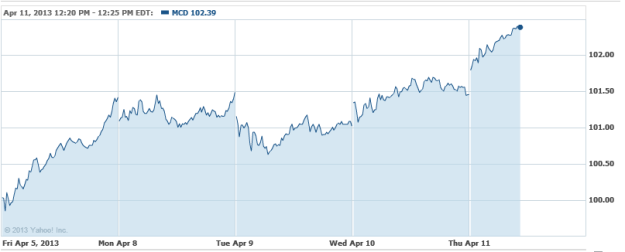 Microsoft Corporation (NASDAQ:MSFT): Current Price $28.81
IDC reports that global PC shipments dropped by 14 percent in the first three months of 2013, marking the sharpest drop since the company's first report on the industry in 1994. Beyond that, IDC says the appeal of tablets and smartphones is draining money from PC sales, but it also blames Microsoft's Windows 8, which has a new appearance and makes users learn new ways to control their machines. IDC executive Bob O'Donnell said that "While some consumers appreciate the new form factors and touch capabilities of Windows 8, the radical changes to the UI, removal of the familiar Start button, and the costs associated with touch have made PCs a less attractive alternative to dedicated tablets and other competitive devices. Microsoft will have to make some very tough decisions moving forward if it wants to help reinvigorate the PC market."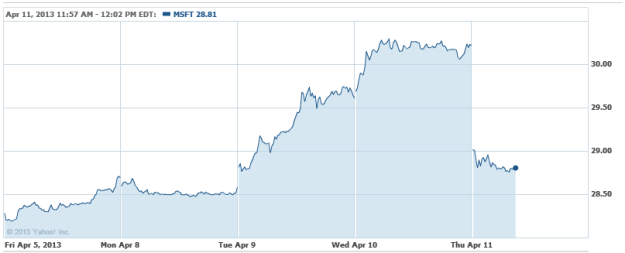 AT&T (NYSE:T): Current Price $38.64
Powered by Facebook (NASDAQ:FB), the HTC First smartphone can rely upon AT&T. CNET reports that the latter, which is the exclusive partner to Facebook and HTC for the First, pledges to give the device its most prominent position in stores when it debuts on Friday, as AT&T considers the HTC First its flagship smartphone for the spring, according to device executive Claudia Knop to CNET. AT&T also has the HTC One and Samsung (SSNLF) Galaxy S4 waiting on standby. While AT&T will offer both devices, Knop said the carrier would concentrate its promotional endeavors on the First.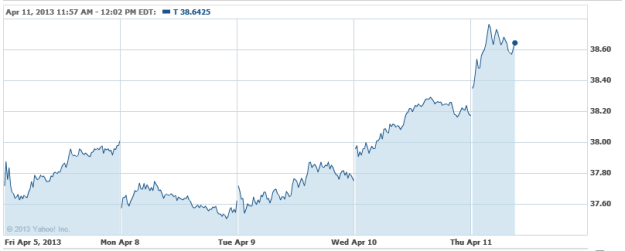 Investing Insights: Do These Factors Support A Bull Run In Yum! Brands?