McDonald's Japan Cuts Its Profit Outlook; Sales Are Fried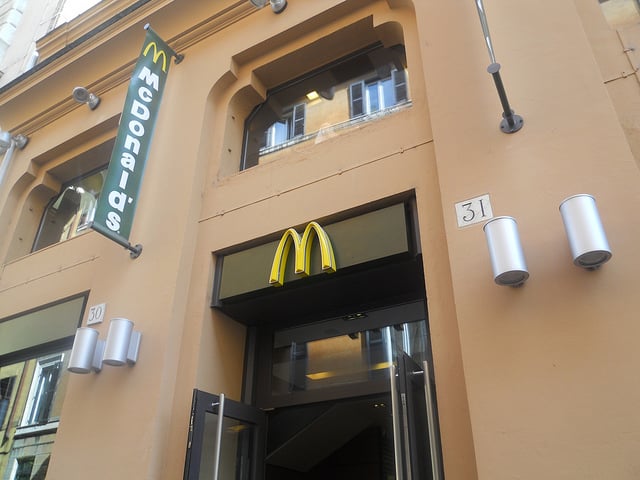 McDonald's (NYSE:MCD) desperately needs some McLovin' in Japan. McDonald's Holdings Co. Japan Ltd. released its full-year profit outlook on Thursday, and according to Bloomberg, said that it is cutting its profit forecast by more than half.
Japan is McDonald's second largest market, behind the United States, but the fast food chain now only expects a net income of 5 billion yen ($48 million) in the country, reflecting a 57 percent cut from its previous full-year forecast. Analysts expected McDonald's Japan to report a net income of 9.53 billion yen from the 3,170 stores it operated in the country as of the end of October.
According to Bloomberg, McDonald's Japan said, "The number of customers during the first quarter was well below the company's expectations," attributing the poorer-than-expected full-year forecast to everything from investment costs to slow customer traffic to costs on store closures.
It isn't the first time McDonald's has witnessed slow traffic in Japan. Earlier this summer, the company recognized that its Japan stores weren't doing as well as it would like, so McDonald's launched an exclusive menu item for the country, catering directly to consumers' tastes. The fast food giant reintroduced the Mega Potato to its menu in Japan for a limited-time offering and tried to lure consumers in the door with almost a pound of McDonald's French fries.
The reintroduction of the Mega Potato came in May, after McDonald's was forced to report its fourth monthly global same-stores sales decline since October. The company's menu revisions proved that it was willing to pull out all the stops to attract customers to stores, but its latest full-year profit outlook shows that its comeback strategies aren't paying off yet.
Per Bloomberg, McDonald's also reported Thursday that it is cutting its forecast for operating profit by 43 percent to 11.5 billion yen, and it plans to close 74 outlets in Japan as the restaurant chain continues to suffer flattened demand in the once significantly lucrative market. It will book the costs suffered from the store closures in this year's earnings, partially accounting for the modest outlook.
McDonald's now has to focus on reviving sales in its second biggest market in Japan, as well as in the United States. The Oak Brook, Illinois-based company has been suffering flattened demand and a lack of consumer interest after years of running the fast food game, so it is clear McDonald's needs to do something differently — and it needs to do it fast.
More From Wall St. Cheat Sheet: