McDonald's May Be Lovin' It, But Consumers Aren't Buyin' It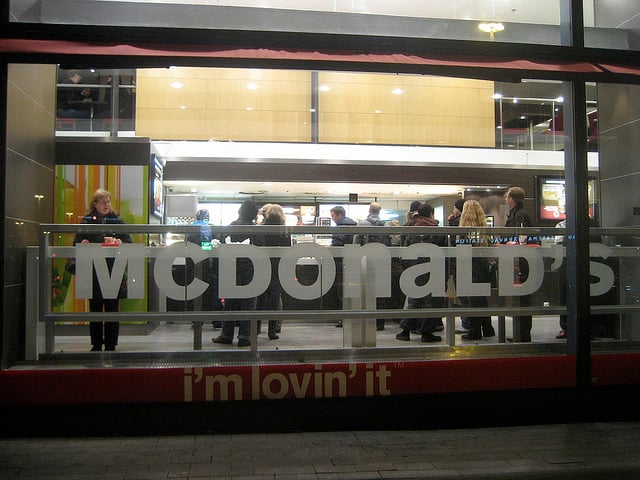 Uh oh, it looks like consumers are really starting to put McDonald's (NYSE:MCD) on the back burner. A Goldman Sachs (NYSE:GS) survey had more bad news to report for the world's largest fast food chain Tuesday as it revealed that customers are starting to lose interest in McDonald's iconic low-cost offerings, and it is even the restaurant consumers are least likely to recommend to their friends and family.
The Wall Street Journal highlighted the Goldman survey Tuesday, and explained that it was based on 2,000 customers who provided their opinions on the Oak Brook, Illinois-based company along with other fast food establishments. According to the study's results, McDonald's ranked last out of a list of 23 fast-food chains in terms of food quality, healthfulness, and customers' willingness to pay more money for the food, and that is despite the hamburger maker's many recent menu innovations, seasonal offerings, and newly publicized initiatives.
McDonald's stock was down 0.97 percent to $93.80 at the close Tuesday, and the decline represents one that the company has suffered ever since it started witnessing a dropping demand for its low-cost offerings, and more consumer outcry over its management practices and company operations.
The fast food giant has worked hard to combat its flat same-store sales that analysts expect to see again on Monday from its third-quarter results, but despite McDonald's efforts to revamp its Dollar Menu, offer seasonal items like Mighty Wings and pumpkin spice lattes, and additionally reinforce healthy advertising to kids, the company has still managed to report disappointing earnings and contracted demand.
McDonald's rivals, Burger King (BKW) and Wendy's, are also experiencing similar frustrations as more and more consumers turn to more healthy food choices or opt to spend their money at competitors like Chipotle (NYSE:CMG) and Subway, but unlike McDonald's, these establishments have worked to increase their ad spending, and have thus effectively crowded out McDonald's advertising share of voice.
Complaints over McDonald's wages and business practices this summer also didn't help matters for the struggling burger maker, but it'll take the stage Monday as it reports its third quarter earnings, and investors learn if the rumors ring true. 
Don't Miss: Emerging Markets Save Coco-Cola Earnings from Fizzing Out.