McDonald's Mulls Over Menu Makeover and 2 Other Dow Movers to Watch
McDonald's Corporation (NYSE:MCD): Current price $101.21
In October, a number of McDonald's franchisees received emails from a regional representative pressing "core menu changes"  inferred from information contained in customer complaints. In reaction, the restaurant chain has considered eliminating Caesar salads, the McSkillet Burrito, along with the Southern Style Biscuit, and steak bagels, said a franchisee e-mail obtained by Bloomberg News. The effort by McDonald's is to streamline a menu that has swollen by 70 percent to approximately 145 items since 2007, stressing kitchen staff, complicating service, and causing customers to experience choice anxiety.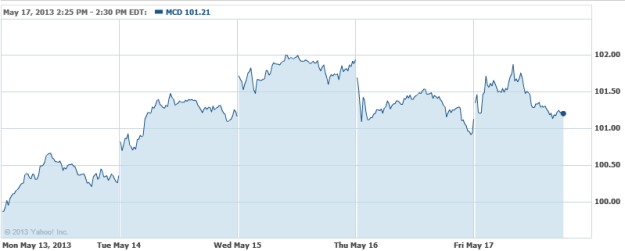 Chevron Corporation (NYSE:CVX): Current price $122.79
On Thursday, the former Ecuadorian judge Zambrano, who signed off on a $19 billion environmental judgment against Chevron in February 2011 did not show up to testify as to whether he actually wrote it. The judge's failure to appear at a deposition, which was set to occur in Lima, will probably taint the judgment's perceived legitimacy in the opinions of United States judges and theoretically that of other judges around the world. Chevron attorney Andrea Neuman commented in an email that, "Given the unchallenged evidence proving he let the Ecuadorian plaintiffs write their own $19 billion judgment. Judge Zambrano's refusal to testify is more predictable than surprising. The other members of the plaintiffs fraud team — [lead Ecuadorian lawyer] Pablo Fajardo and [community liaison] Luis Yanza — have likewise refused to testify on behalf of their clients or their 'judgment."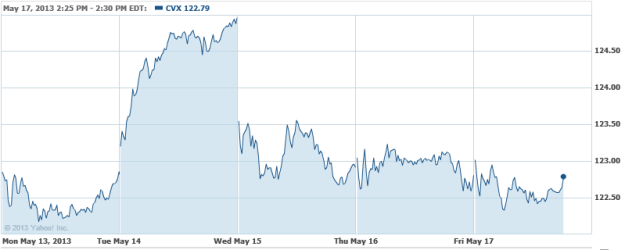 Verizon Communications (NYSE:VZ): Current price $53.27
On Friday, Verizon reported that its subsidiary, Verizon Maryland LLC, will redeem the entire outstanding principal amount of its $250-million 7.15-percent debentures, due May 1, 2023. The redemption date for the securities is set for June 17, 2013. The redemption price for the securities will be equal to 100 percent of the principal amount of the securities, along with accrued and unpaid interest to the redemption date, and will be payable on that date.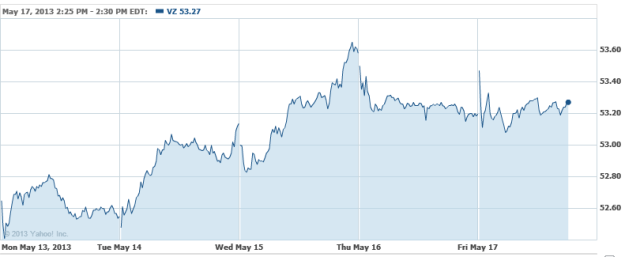 Don't Miss: Is the McDonald's Menu Short On Innovation?