McDonald's Needs Some McLovin': U.S. Sales Still Down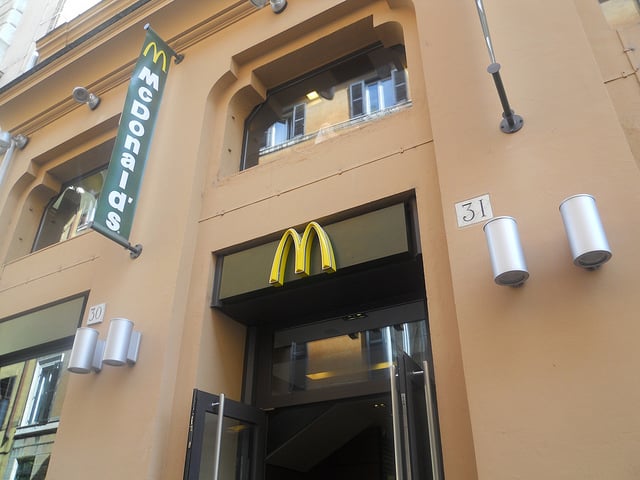 US weakness persistent and getting worse at McDonald's – feels like a market share / perception issue, not just macros $MCD

— Rahul Sharma (@Retail_Guru) December 9, 2013
Uh oh, it looks like McDonald's U.S. comparable store-sales are still fried. According to CNBC, the iconic fast food chain reported its latest round of global sales Monday, and announced that worldwide sales at restaurants open at least 13 months increased 0.5 percent in November, missing analysts' expectations of a 0.6-percent rise. Although comparable sales in Europe, McDonald's biggest market, rose 1.9 percent, U.S. comparable sales decreased 0.8 percent, and dramatically affected the chain's November results.
McDonald's CEO Don Thompson presented the latest material with the statement, "Throughout the McDonald's System we're focused on satisfying our customers by providing a differentiated experience that delivers high-quality food and meaningful value in a comfortable and modern environment. As consumer expectations and the marketplace continue to evolve, we are making investments in our menu, restaurants and service to strengthen our connection with customers and build our business for long-term profitable growth."
McDonald's poorer-than-expected global sales results aren't all together surprising, considering the chain already indicated earlier this year that instability could continue into the fourth quarter; however, the slowing sales still evidence that the Oak Brook, Illinois-based company is continuing to struggle with tightened competition and deflated consumer demand after registering significant victories earlier in its timeline. Recent reports have illuminated that more consumers are now becoming turned off by the chain on account of its low worker wages, slower service, and less healthful offerings, but McDonald's has been adamant to combat that criticism and assure investors that that the company is simply playing out a cycle that will eventually work itself out.
The November report elucidates that McDonald's has a lot of issues to concentrate on, but the biggest problems seem to reside in the U.S., which is the chain's biggest market second to Europe. Within the nation's four borders, comparable sales decreased 0.8 percent, and that was after the company worked hard to roll out more seasonal menu items, offer healthier choices, and expand value offerings. Unfortunately, not all of those efforts seemed to bear fruit, and Seeking Alpha reports that McDonald's will now rebuild its business momentum by concentrating on its key elements of customer service and menu choices.
Europeans, on the other hand, evidently took to McDonald's better in November, and responded to the chain's improved customer service and expanded menu options with increased foot traffic into stores and subsequent higher sales. Food sales in Asia/Pacific, Middle East, and Africa told a different story, down 2.3 percent, but McDonald's is still working on accessibility in these regions.
Don't Miss: Top 7 Things Kids Are Asking Santa for This Year.