McDonald's Not-So-Mighty Wings Just Got a Lot Cheaper: Here's Why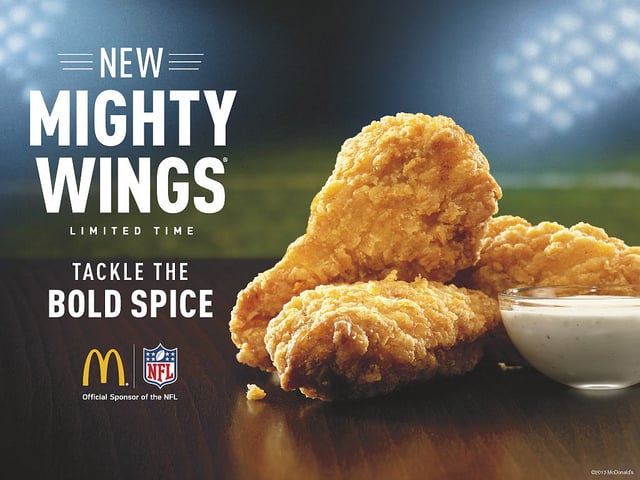 McDonald's (NYSE:MCD) is running out of freezer space, and that's why it now is selling its Mighty Wings at a 40 percent discounted price, much to the benefit of consumers. It was earlier in February that the world's largest fast-food chain announced the reintroduction of its seasonal fall menu item, the Mighty Wings, but Nick Setyan, vice president in charge of equity research at Wedbush Securities, reported Monday via Bloomberg that the new launch is only a wing clearance sale to help McDonald's get its spicy chicken out of the freezer. He explained, "They've paid for those wings. If they don't sell it, they would have to eat the entire loss. It's really the only sensible option at this point." Setyan also said that new price reduces operating margins on wings by about 10 percentage points.
As of this week, consumers can now get their Mighty Wings at a new price of $3 for five wings, or about 60¢ each, compared with the original price of $1 per wing. Spokesperson Lisa McComb wrote in an email that the Mighty Wings will be sold at the discounted price "until supply runs out," and that could be a while, considering reports in December illuminated that McDonald's had roughly 10 million pounds of frozen wings at the end of 2013 after Mighty Wings launched nationally in September. That reflects 20 percent of what the Oak Brook, Illinois-based chain originally purchased, according to Bloomberg.
Also in December, we learned that McDonald's franchisees were upset about the failure of the Mighty Wings launch, especially because, as aforementioned, McDonald's purchased approximately 50 million pounds of wings for its limited-time promotion, and approximately 20 percent of that inventory remained, saddling franchisees with the cost of any excess inventory they can't manage to sell. Its freezers are stocked with the wings, but now it's time for a second go-around, and it's hoping the chicken will sell better at a new price point.
Though the Mighty Wings will be priced lower this month than they were in September, they will still have the same flavor and spice, and franchisees are worried that that kick could again hurt their sales. Not only did franchisees say in December that the wings were priced too high, they also said that they were too spicy and not going over well with customers, but McDonald's still made the executive decision in February to keep the same flavor, but add some awareness about it.
Nonetheless, even if McDonald's can get its Mighty Wings sold once and for all, the seasonal promotion certainly wasn't a particularly lucrative one for the fast-food chain, and it is clear that it will need to rethink its promotion strategy for its next season, especially now that it has the Dollar Menu and More. As Setyan said, McDonald's only has the chance to break even from the Mighty Wings, and that's not good news for the chain that has reported quarter after quarter of disappointing losses and whose U.S. same-stores sales only rose 0.3 percent last year. If McDonald's wants to revive its business in its home market, its promotions have to offer significant profitability, not merely squeak by, and it is clear that that is the only hope the company has for its not-so-mighty Mighty Wings.
More From Wall St. Cheat Sheet: