McDonald's Rides New Menu On Monday and 2 Other Dow Movers To Watch
McDonald's Corporation (NYSE:MCD): Current price $99.53
Shares are up Monday following May sales moving up by more than was anticipated on menu innovations targeting customer health worries. Thus far in 2013, the stock has gained 13 percent, versus a 16-percent advance for the S&P 500. The fast food megalith has added new items like the McWraps, new quarter-pounder hamburger variations, and chicken meals. Breakfast, led by the new Egg White Delight, helped reinforce the corporation's 2.4-percent growth in May. Sales were expected to rise by 2.1 percent.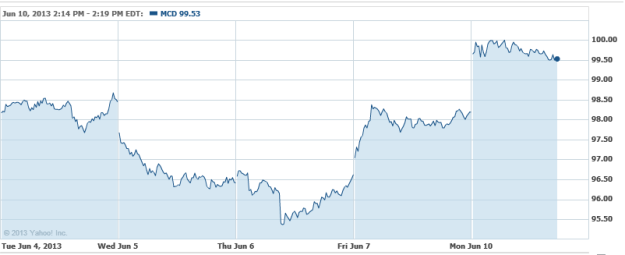 The Boeing Company (NYSE:BA): Current price $102.12
Soon to become the first European airline to operate both aircraft, British Airways will receive its first two Boeing 787 Dreamliner planes on June 26th and 27th, and its first Airbus A380 superjumbo jet seven days afterwards. The  International Airlines Group-owned carrier said that it would take delivery of the Airbus A380 on July 4th. British Airways is investing $8 billion on new aircraft, improved cabins and new technologies. The delivery of its first Dreamliner had originally been set for the end of February, but was delayed by a number of battery incidents.

Microsoft Corporation (NASDAQ:MSFT): Current price $35.24
Windows 8 and Hewlett-Packard Co. (NYSE:HPQ) are making an assertive pitch to educators who have to decide this week which laptops or tablets will be provided to over 70,000 middle and high school students in the fall. Apple had been the on provider of laptops under the Maine Learning Technology Initiative for a decade prior to HP winning a competition in late April so as to become the state's preferred vendor. Chief Technology Officer for Microsoft Education Cameron Evans, conceded that Maine educators are used to Apple products, but said that the HP proposal supplies the same tools, while utilizing a Windows operating system that is preferred by entrepreneurs.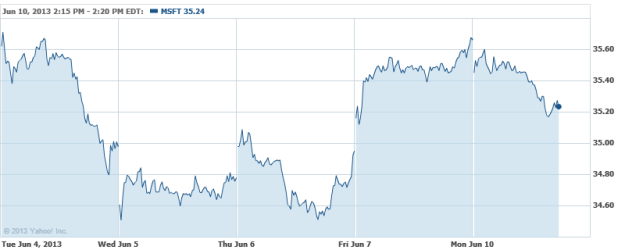 Don't Miss: Are McDonald's Menu Mix-Ups Paying Off?