McDonald's Slashes Prices in China and 4 Other Hot Stocks
MasterCard (NYSE:MA) is under investigation by EU anti-trust regulators on whether the terms of its card fees for non-European cardholders are anti-competitive and reach anti-trust rules of the EU. The investigation will also cover the rules that MasterCard imposes on merchants which make it difficult for them to avail better terms from other banks. According to media reports, MasterCard responded by saying that it will cooperate with the EC in the probe, and that it always aims for a fair distribution of card costs.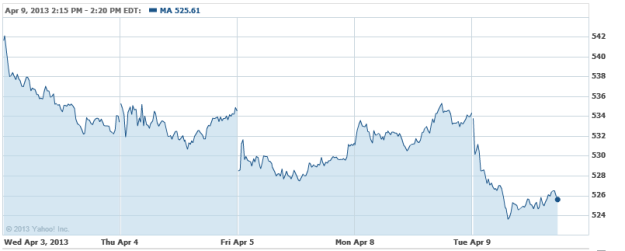 According to an S-4 filing by Office Depot (NYSE:ODP), which is to merge with OfficeMax (NYSE:OMX), "On April 8, 2013, the parties received a Request for Additional Information and Documentary Materials from the FTC regarding the proposed transactions. The effect of the second request was to extend the waiting period imposed by the HSR Act until 30 days after each party has substantially complied with the second request, unless that period is terminated sooner by the FTC. The parties will work to promptly respond to the second request and continue to work cooperatively with the FTC in connection with this review." The same document revealed the process by which the CEO of the combined company will be selected: A selection committee consisting of an equal number of independent directors of each party will identify successor CEO candidates. Office Depot has designated Nigel Travis, Marsha J. Evans and Thomas J. Colligan and OfficeMax has designated V. James Marino, Rakesh Gangwal and Francesca Ruiz de Luzuriaga as members of the selection committee with Messrs. Travis and Marino serving as co-chairpersons.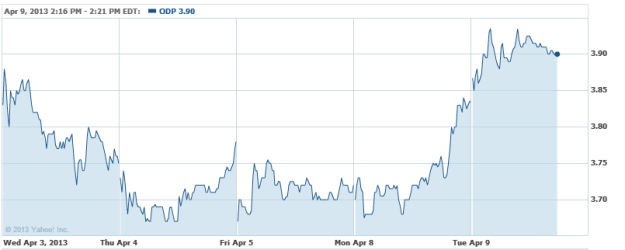 The Chinese H7N9 avian flu scare has prompted McDonald's Corporation (NYSE:MCD) to bring down the prices of its popular chicken McNugget item served at its Shanghai restaurants in China. According to reports, a McNugget deal its previously cost about $5.80 is now being sold for $3.22, which is almost half of its original price. The fast food chain is probably aiming to clear out existing chicken inventories, hence the markdown. Shanghai's poultry markets have been shut since Saturday after trading in birds was banned by the authorities. There could be an adverse impact on the sales and profits of fast food chains operating in China such as McDonald's and Yum Brands (NYSE:YUM) as customers cut down on purchases after the panic.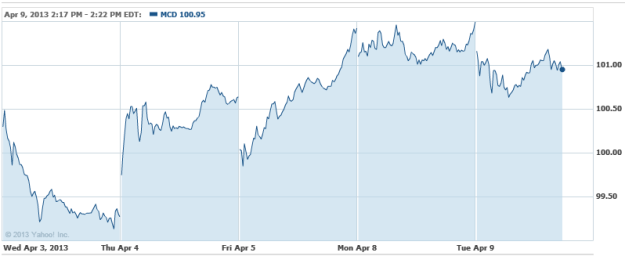 Don't Miss: Here's Why Retail Sales Can't Pick Up Steam.