McDonald's Sluggish Quarter, US Airways Ups International Service, and 3 More Hot Stocks
McDonald's Corp. (NYSE:MCD): McDonald's has reported earnings per share of $1.52, beating by 1 cent, while revenue of $7.32 billion fell $0.02 billion shy of estimates. Global comparable-store sales saw gains of 0.9 percent during the third quarter, as both the U.S. and Europe showed sluggish results. On a brighter note, SG&A expenses fell 11 percent year-over-year, as some of McDonald's cost-cutting efforts took effect.

US Airways Group (NYSE:LCC): US Airways announced that it will be opening new international flights from its hub in Charlotte, North Carolina, bringing new services to Barcelona; Brussels; Lisbon; and Manchester, England. Flights to each destination will be live by June; the new flights bring US Airways's total international destinations to 38.

SAP AG (NYSE:SAP): SAP shares are up as the company reports that its adjusted operating profit rose 5 percent to 1.3 billion euros, just below consensus of 1.32 billion euros; sales generated from cloud subscriptions more than doubled to 197 million euros; revenue from SAP's Hana database software also surged, by 79 percent to 149 million euros. SAP reaffirmed its July forecast that it expects double-digit percentage growth in revenue for software and software-related services, excluding forex fluctuations.

Verizon Communications (NYSE:VZ): The senior team of 250 managers at Vodafone Group (NASDAQ:VOD) will make 56 million British pounds upon the completion of the sale of its 45 percent stake in Verizon Wireless to Verizon for $130 billion, and it has pledged to use a part of the proceeds from the sale to pay 112 pence per share to its stockholders in cash and Verizon shares. Vodafone CEO Vittorio Colao will receive more than 10 million pounds alone from the deal.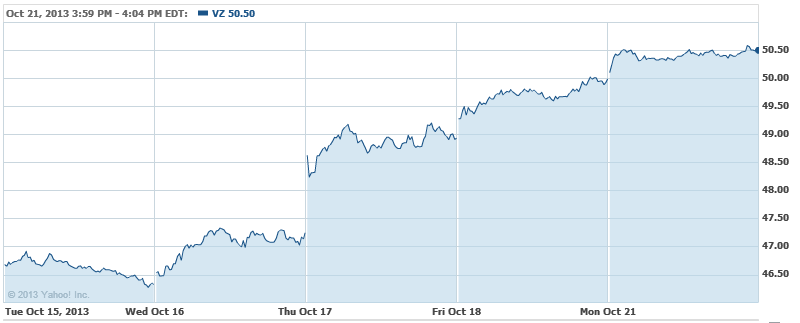 Don't Miss: Somebody Get McDonald's a Coffee: Sales Lag in Weak Economy.