McDonald's Stops Catering to Detroit-Area Muslims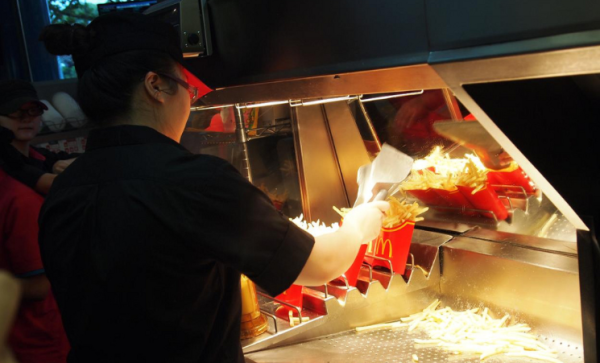 Just several weeks after settling a $700,000 lawsuit regarding serving inconsistent halal products, McDonald's (NYSE:MCD) has announced that its two Detroit-based restaurants would no longer serve halal.
Considering the Detroit area alone is home to approximately 150,000 Muslims, the decision for the two stores located in Dearborn; home to one of the largest mosques in North America, to discontinue the halal McChicken sandwich and Chicken McNuggets has come as an unpleasant surprise to the local community.
McDonald's told the Associated Press the decision was made "to focus on our national core menu" and that it took into account "local and dietary preferences".
The company did not divulge whether its decision was related to the lawsuit, brought to light by customer Ahmed Ahmed in 2011, which covered anyone who purchased halal-advertised goods between September 2005 and January 2006 from the McDonald's stores located on Ford Road and another restaurant in Dearborn.
According to Associated Press, Ahmed Ahmed's attorney Kassem Dakhlallah sent a letter to McDonald's and restaurant franchisee Finley's Management stating that Ahmed had "confirmed from a source familiar with the inventory" that McDonald's had sold non-halal food "on many occasions."
Finley Management responded to the letter in its settlement notice stating that it "has a carefully designed system for preparing and serving halal such that halal chicken products are labeled, stored, refrigerated, and cooked in halal-only areas." The management company also insisted that it trained employees how to correctly prepare halal food, which "requires strict adherence to the process."
During a hearing earlier this year, McDonald's attorney Thomas McNeill said investigations had found that if the problem arose, "it was isolated and rare."
Dakhlallah said "If the result of the class-action lawsuit against McDonald's and the Ford Road franchise was that companies who were falsely advertising halal products stopped pretending to be halal compliant, that's a good thing for consumers."
"I doubt that truly halal compliant businesses would stop offering halal products," he added.
Associated Press reported that Ahmed Ahmed, a Muslim-run Detroit health clinic, Dearborn's Arab American National Museum, and lawyers, were sharing the $700,000 settlement.