McDonald's Targets Rude Workers and 2 Stocks Riding 52-Week Highs Thursday
McDonald's Corporation (NYSE:MCD): Closing Price $101.99
Facing sagging sales at its United States outlets, the number-one fast food megalith is going for a manners makeover. The Wall Street Journal reports that McDonald's is pressing franchise owners to improve service in the wake of rising complaints about rude employees. In a webcast, executives told franchise owners that the top customer complaint was said to be rude or unprofessional employees. Shares closed up 0.49 percent on Thursday at $101.99, and have been traded in a 52-week range of $83.31 to $102.49.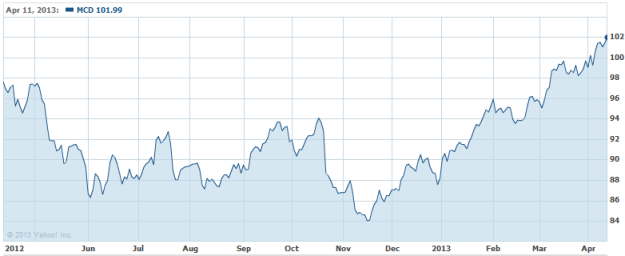 3M Company (NYSE:MMM): Closing price $108.25
3M Library Systems has launched a new Catalog Acquisition Tool for the 3M Cloud Library, created to provide librarians with more features to help oversee content and to facilitate the buying experience. Along with the new CAT, the firm has signed accords with new publishers to continue building on its extensive and varied list of titles. New additions include Random House Mondadori, which will enhance the service's collection of Spanish titles, alongside Houghton Mifflin Harcourt, including their strong list of children's content. Shares close up 0.52 percent on the day at $108.25, having been traded between $81.99 and $108.72.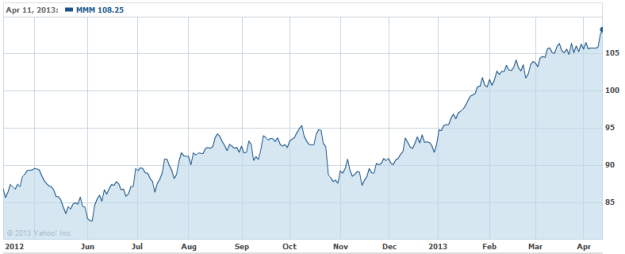 Dr Pepper Snapple Group (NYSE:DPS): closing price $47.61
On Wednesday, Zacks Equity Resarch maintained its Neutral on the stock, "…due to our faith in its long-term fundamentals, despite weak fourth-quarter results. Dr Pepper's fourth-quarter 2012 earnings of 82 cents per share missed the Zacks Consensus Estimate and prior-year earnings by 3.5 percent and 2.4 percent, respectively. Decent sales growth was offset by weak profits to result in the earnings shortfall. Revenues increased 2 percent to $1.48 billion, benefiting largely from pricing. Operating profit declined 1 percent in the quarter. Overall, Dr Pepper has had a dismal 2012, missing Zacks estimates for both revenues and earnings while just managing to meet company expectations for the year. Moreover, Dr Pepper expects earnings to slowdown in 2013 due to higher expenses associated with a national launch of the TEN platform." However, shares closed up 1.43 percent on Thursday at $47.61, and have been traded in a 52-week range of $38.25 to $47.74.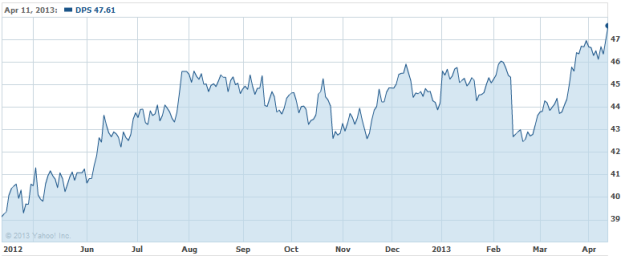 Don't Miss: What's the Deal, PC? Tablets Got Your Sales?