McDonald's Will Fight Childhood Obesity With New Value Meals and 2 Other Dow Movers To Watch
McDonald's Corp. (NYSE:MCD): Current price $97.20
Joining with the Alliance for a Healthier Generation, a non-profit group made up of the Clinton Foundation and the American Heart Association and organized to combat childhood obesity, McDonald's will start offering side salads, vegetables, or fruit instead of fries with value meals in 20 of its biggest markets, comprising over 85 percent of world sales, reports The Motley Fool. Along with offering a side salad, fruit, or vegetable substituting for fries in value meals, McDonald's pledges to promote and market only milk, juice, and water with its Happy Meals. McDonald's said that it will also target all of its marketing activities to children with a concentration upon nutrition or well-being.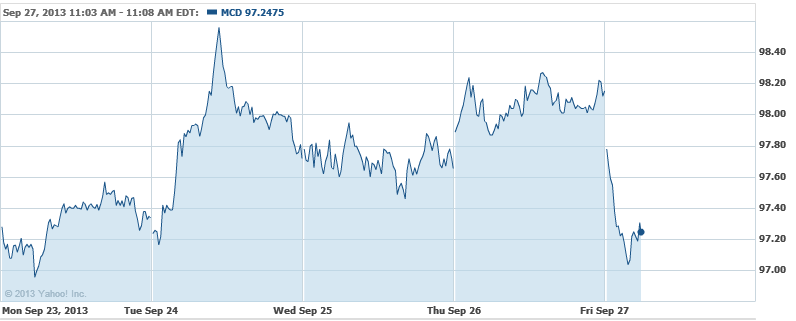 Procter & Gamble Co. (NYSE:PG): Current price $77.23
P&G said on September 4 that it will debut a less expensive version of its iconic Tide detergent, and that is shaking up the laundry sector. Since the announcement, debt securities of its competitor Sun Products Corp. have declined to 92.75 cents on the dollar from over 98 cents, said a Barclays research report earlier this week. Sun Products' junk-rated bonds had traded up to 104 cents on the dollar earlier in 2013. The company did not respond to a request for comment. Privately held Sun manufactures laundry detergent under the All and Wisk brands, which are mid-tier, and also various private-label products. Barclays calculates that P&G's action could cause Sun Products' detergent sales to fall by between $60 million and $75 million.

United Technologies Corp. (NYSE:UTX): Current price $109.19
The United Technologies subsidiary Sikorsky Aircraft Corp. commences final assembly this week of the prototype S-97 RAIDER helicopter, after its acceptance of the fuselage structure from Aurora Flight Sciences. Comprised of an integrated cockpit, cabin and tail cone, the composite fuselage arrived on September 20 at Sikorsky's Development Flight Center in West Palm Beach, where the company will finalize a light tactical rotorcraft created to beat conventional military helicopters in speed, maneuverability, payload, range, and high altitude operations.

Don't Miss: Wal-Mart Cutting Orders? Not According to This Supplier