McDonald's Will Spend $3B in 2014 to Build More Golden Arches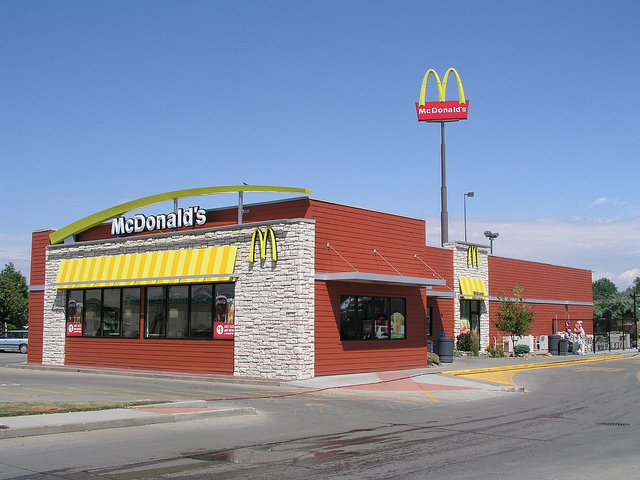 McDonald's (NYSE:MCD) offered an updated spending forecast for 2014 Thursday, and reported that it plans to spend $2.9 billion to $3 billion next year as it opens 1,500 to 1,600 new restaurants and remodels about 1,000 others. According to Reuters, this reduction in spending is similar to the one McDonald's has endured this year as it faces falling same-store sales and weakened demand, but the company hopes to better turn things around next year as it continues innovating and rolling out new products.
Consumers first learned of McDonald's trimmed 2013 capital spending outlook last month when the world's largest hamburger chain reported that it was cutting its figure by $100 million to $3 billion. The company was forced to moderate its outlook and delay restaurant opening on account of struggling stores in China and other emerging markets, and McDonald's also isn't faring much better in the U.S., where fast-food consumers are increasingly showing more interest in other chains like Chipotle (NYSE:CMG) and Panera (NASDAQ:PNRA). Despite the company's best efforts, its sales have still suffered, leaving it no choice but to cut spending outlooks until gains can once again be revived.
The Oak Brook, Illinois-based company also offered 2014 forecasts for commodity costs and other expenses Thursday, and Reuters reports that the chain expects commodity costs to increase 1 to 2 percent in the U.S. in 2014, and 1.5 to 2 percent in Europe. Add to that a general and administrative cost jump of about $200 million thanks to heightened employee expenses and costs associated with the Winter Olympics, it becomes increasingly clear why the fast food company is already having to cut spending now.
Following the forecast, McDonald's shares were down 1.10 percent midday Friday, sitting at $96.47 as of 1:15 p.m. The fast food chain has long enjoyed significant success ever since its origination in 1955, but investors are growing increasingly leery that its domination over the fast food world may be coming to an end as the market becomes saturated, and more health-conscious consumers find themselves supporting the efforts of companies that promise fresh and healthy ingredients.
Nonetheless, McDonald's still stood by its 2014 same-restaurant sales growth forecast Thursday, and maintained predictions that the figure will come in at 3 to 5 percent. The chain expects an operating income growth of 6 to 7 percent, and return on invested capital in the high teen percentages.
Don't Miss: Costco Employees Will Be At Home on Thanksgiving — Weird, Right?