McDonald's Wins Analyst Praises and 2 Stock at 52-week Highs
McDonald's Corporation (NYSE:MCD): Closing price $100.63
The fast-food megalith "…offers traders an upbeat growth outlook and technical strength, complimented by an appealing dividend," says Deborah O'Malley at The StreetAuthority Network, also commenting that "the company, which already operates in about 120 countries, through more than 33,000 outlets, keeps growing, thanks to international expansion and menu item adaptation. Worldwide, people have developed a taste for McDonald's. In North America and Europe, sales have only increased 9 percent over the past four years. However, in Asia-Pacific, the Middle East and Africa, sales have risen over 50 percent in the same time period." Shares closed up 1.39 percent on Thursday at $100.63, and have been traded in a 52-week range between $83.31 and $100.81.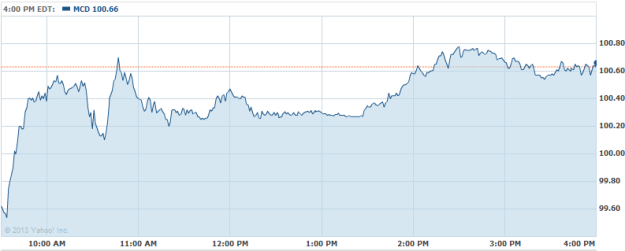 Pinnacle West Capital Corporation (NYSE:PNW): Closing price $57.97
Pinnacle's key ancillary Arizona Public Service disclosed on Thursday updates on the performance of its solar division in 2012, along with  revealing the 2013 solar plan. In 2012, the utility operator added 148 megawatts to its generation capacity, and the increased output will help serve over 35,000 consumers in Arizona,  securing its position as one of the top power service providers in the region, according to Zacks Equity Research. Shares closed up 0.64 percent on the day at $57.97, having been traded in a 52-week range of $45.95 to $58.01.

Monsanto Company (NYSE:MON): Closing price $105.74
A higher-than-anticipated second quarter earnings report prompted Wells Fargo to hike its target from a $104 to $106 range, to between $118 and $120 on Monsanto. The analyst noted that the firm will use share repurchases to lower the share count, maintaining its Outperform on the shares. Shares closed up 1.18 percent on Thursday at $105.74, and have been traded between $69.70 and $107.24.

Don't Miss: Will Casual-Dining Still Thrive in America?