McGraw-Hill Board Approves Dividend Increase and 4 Stocks Hitting 52-Week Highs
Multimedia Games (NASDAQ:MGAM): Closing price $16.72
The firm increases its estimates for its fiscal year 2013 revenue view to between $174.2 million and $177.1 million, with a consensus of $172 million. The prior adjusted earnings per share forecast was between 74 and 79 cents, with revenue between $165.6 million and $170.2 million. Shares closed up 17 percent on the day at $16.72, and have beentraded in a 52-week range of $8.35 to $16.75.
McGraw-Hill Companies (NYSE:MHP): Closing price $57.38
McGraw-Hill's board has approved a 9.8% increase in the regular quarterly cash dividend on its common stock, which will rise from 25.5 to 28 cents per share. This dividend will be payable on March 12th to shareholders of record on February 26th. The new annualized dividend rate of $1.12 per share marks an average compound annual dividend growth rate of 9.6 percent since 1974. Shares closed up 0.35 percent on the day at $57.38, having been traded in a 52-week range of $42.02 to $57.44.
Pioneer Natural Resources (NYSE:PXD): Closing price $117.37
Pioneer Natural reached an agreement with Sinochem Petroleum USA, a domestic subsidiary of the Sinochem Group, to divest 40 percent of its interest in about 207,000 net acres it has leased in the horizontal Wolfcamp Shale play in the southern portion of the Spraberry Trend Area Field, for an aggregate price of $1.7 billion. In return, Sinochem will pay $500 million in cash to Pioneer, before normal closing adjustments, and will pay the remaining $1.2 billion by carrying a portion of Pioneer's share of future drilling and facilities costs. The transaction should close in the second quarter. Shares have been traded in a 52-week range of $77.41 to $119.19.
Rockwell Automation (NYSE:ROK): Closing price $88.12
Rockwell supports the fiscal year 2013 revenue estimate between $6.35 billion and $6.65 billion, against a consensus of $6.48 billion. Shares closed down 1.97 percent on the day at $88.12, and have been traded in a 52-week range of $61.20 to $90.37.
SunOpta (NASDAQ:STKL): Closing price $7.02
SunOpta intends to further enlarge its value-added flexible re-sealable pouch processing and packaging capabilities at its Allentown, Pennsylvania factory. To meet ongoing demand for flexible re-sealable pouch products, the firm will be adding additional filling lines at the operation, which is expected to more than double the processing capacity. The new lines should come on-line in the third quarter, boosting the firm's total filling capacity to around 150 million pouches. Shares closed up 2.03 percent on the day at $7.02, having been traded in a 52-week range of $4.86 to $7.00.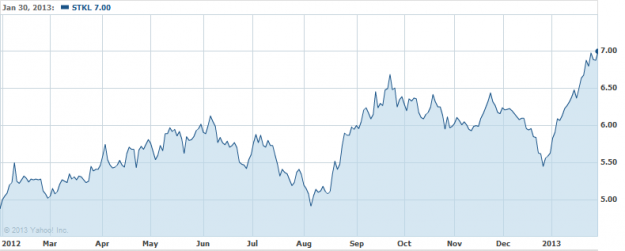 Don't Miss: Live Wrap: Will Facebook's Fourth-Quarter Results Keep the Bears Away?