McGraw-Hill Companies Earnings: McGraw-Hill Financial Kicking In
S&P 500 (NYSE:SPY) component McGraw-Hill Companies Inc. (NYSE:MHP) reported net income above Wall Street's expectations for the first quarter. McGraw-Hill Companies, Inc. produces a range of information products and services for the education, financial services and business information markets.
Don't Miss: Wall St. Cheat Sheet's newest Feature Trades of the Month!
McGraw-Hill Companies Earnings Cheat Sheet for the First Quarter
Results: Net income for the publisher rose to $120 million (39 cents/share) vs. $103.3 million (33 cents/share) in the same quarter a year earlier. A rise of 16.2% from the year earlier quarter.
Revenue: Rose 7.7% to $1.28 billion YoY.
Actual vs. Wall St. Expectations: MHP beat the mean analyst estimate of 37 cents/share. Estimates ranged from 35 cents per share to 39 cents per share.
Quoting Management: "A promising year is off to a solid start," said Harold McGraw III, Chairman, President and Chief Executive Officer of The McGraw-Hill Companies. "We have started to realize the value of our newest segment, McGraw-Hill Financial, which produced strong growth and margin expansion in the first quarter. Significantly, we were able to achieve a solid increase in first quarter earnings while making investments to build on our growing digital presence in education and position Standard & Poor's for stronger profit growth for the balance of the year."
"We are pleased with our solid start to the year," said Mr. McGraw, "but keep in mind that the first quarter is seasonally small. We continue to maintain our guidance of diluted earnings per share of $2.79 to $2.89 for the year."
Key Stats:
Net income has increased 20.3% year over year on average across the last five quarters. The biggest gain came in the first quarter of the last fiscal year, when income climbed 63.9% from the year earlier quarter.
Competitors to Watch: Moody's (NYSE:MCO), Reed Elsevier plc (NYSE:RUK), Reed Elsevier NV (NYSE:ENL), Thomson Reuters Corp. (NYSE:USA) (NYSE:TRI), Gannett Co., Inc. (NYSE:GCI), Meredith Corporation (NYSE:MDP), Scholastic Corporation (NASDAQ:SCHL), Pearson PLC (NYSE:PSO), News Corporation (NASDAQ:NWSA), and The New York Times Company (NYSE:NYT).
Today's Performance: Shares of MHP are trading at $39.59 as of April 26, 2011 at 8:49 AM ET, unchanged from the previous close.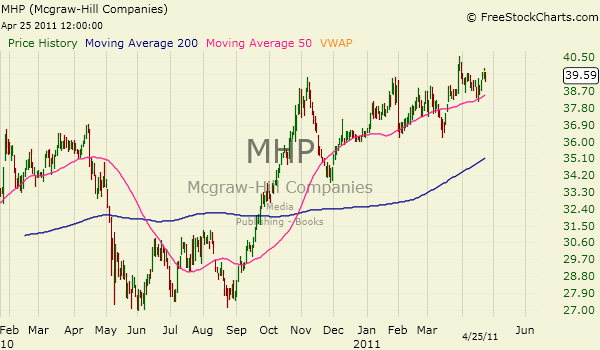 Don't Miss Wall St. Cheat Sheet's newest Feature Trades of the Month!