Mead Johnson Nutrition Company Earnings: Asia and Latin America Boom
S&P 500 (NYSE:SPY) component Mead Johnson Nutrition Company (NYSE:MJN) reported its results for the first quarter. Mead Johnson Nutrition Company provides of pediatric nutrition and related products.
Don't Miss: Wall St. Cheat Sheet's newest Feature Trades of the Month!
Mead Johnson Nutrition Company Earnings Cheat Sheet for the First Quarter
Results: Net income for the processed and packaged goods company rose to $146.1 million (71 cents/share) vs. $125.6 million (61 cents/share) in the same quarter a year earlier. A rise of 16.3% from the year earlier quarter.
Revenue: Rose 17.9% to $899.8 million YoY.
Actual vs. Wall St. Expectations: MJN reported adjusted net income of 76 cents/share. By this measure, the company beat the mean analyst estimate of 72 cents/share. Estimates ranged from 68 cents per share to 74 cents per share.
Quoting Management: "We are very pleased with our sales and earnings performance in the quarter," said Chief Executive Officer Stephen W. Golsby. "The Asia/Latin America segment reported sales growth of 27 percent and now accounts for over 64 percent of global sales. This strong growth was led by China/Hong Kong and supported by broad-based gains across most of our emerging markets. The increase in U.S. market share drove five percent sales growth in the North America/Europe segment. Globally, our growth was heavily weighted towards volume and we grew market share from product innovations, increased demand-generation investments and high standards of marketplace execution. In the second half we will face more challenging year-over-year comparisons from higher commodity costs, increased spending behind growth drivers and stronger sales in 2010 due in part to the impact from a competitor's recall. Nevertheless, we have positive momentum in the business."
Key Stats:
The company has now seen net income rise in three-straight quarters. In the fourth quarter of the last fiscal year, net income rose 55.6% and in the third quarter of the last fiscal year, the figure rose 8.7%.
Over the last five quarters, revenue has increased 12.5% on average year over year. The biggest increase came in the most recent quarter, when revenue rose 17.9% from the year earlier quarter.
Competitors to Watch: Synutra Intl., Inc. (NASDAQ:SYUT), Groupe Danone SA (DANOY), Feihe International Inc (NYSE:ADY), Wimm-Bill-Dann Foods OJSC (NYSE:WBD), Nestle SA Reg Shs. Ser. B Spons (NSRGY), Dean Foods Company (NYSE:DF), Emerald Dairy Inc (EMDY), Total Nutraceutical Solutions (TNUS), and Lifeway Foods, Inc. (NASDAQ:LWAY).
Today's Performance: Shares of MJN closed at $65.15, up 5.1% from the previous close.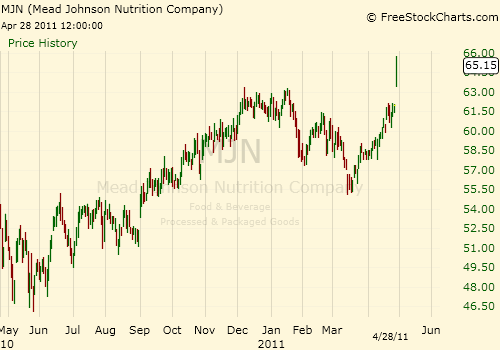 Don't Miss Wall St. Cheat Sheet's newest Feature Trades of the Month!