Measurement Specialties, Inc. (NASDAQ:MEAS) reported higher profit for the fourth quarter as revenue showed growth. Measurement Specialties, Inc. designs, develops and manufactures sensors and sensor-based systems for original equipment manufacturers and end users, based on a broad portfolio of proprietary technology and typically characterized by the MEAS brand name.
Don't Miss: Wall St. Cheat Sheet's newest Feature Trades of the Month!
Measurement Specialties Earnings Cheat Sheet for the Fourth Quarter
Results: Net income for Measurement Specialties, Inc. rose to $8.3 million (53 cents/share) vs. $4.2 million (28 cents/share) in the same quarter a year earlier. A rise of 98.2% from the year earlier quarter.
Revenue: Rose 25.8% to $76.8 million YoY.
Actual vs. Wall St. Expectations: MEAS fell short of the mean analyst estimate of 54 cents/share. Estimates ranged from 52 cents per share to 56 cents per share.
Quoting Management: Frank Guidone, Company CEO commented, "The tremendous fourth quarter was a fitting end to a great year, our first full-year post recession. Our fourth quarter was up 21% organically over the same period last year; impressive given this was our first difficult comp (quarter). Despite the record sales, our book to bill for the quarter was well above one, giving us continued confidence in the fiscal 2012 outlook. We had a strong year-end push which helped to drive Q4 growth up 7% over Q3; a bit stronger than expected. Accordingly, we are forecasting Q1 flat to Q4, and expect to resume consecutive quarterly growth in the second quarter. Given the strength of bookings and full-year forecast, we remain confident in our annual organic growth target of 10%-12%."
Key Stats:
The company has enjoyed double-digit year-over-year revenue growth for the past five quarters. Over that span, the company has averaged growth of 33.8%, with the biggest boost coming in the fourth quarter of the last fiscal year when revenue rose 42.7% from the year earlier quarter.
Competitors to Watch: RAE Systems Inc. (AMEX:RAE), FARO Technologies, Inc. (NASDAQ:FARO), OSI Systems, Inc. (NASDAQ:OSIS), AMETEK, Inc. (NYSE:AME), OYO Geospace Corporation (NASDAQ:OYOG), MOCON, Inc. (NASDAQ:MOCO), Danaher Corporation (NYSE:DHR), MTS Systems Corporation (NASDAQ:MTSC) and Image Sensing Systems, Inc. (NASDAQ:ISNS).
Stock Performance: Shares of MEAS are trading at $35.98 per share.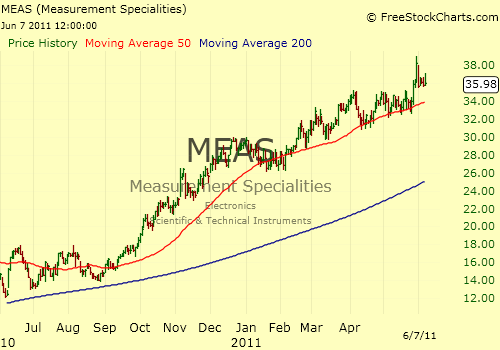 Don't Miss Wall St. Cheat Sheet's newest Feature Trades of the Month!
(Sources: YahooFinance, Xignite Financials)