MedCath Corporation Earnings: Loss Widens
MedCath Corporation (NASDAQ:MDTH) reported its results for the second quarter. The Company is a healthcare provider and is focused primarily on providing high acuity services, including the diagnosis and treatment of cardiovascular disease.
Don't Miss: Wall St. Cheat Sheet's newest Feature Trades of the Month!
MedCath Earnings Cheat Sheet for the Second Quarter
Results: Loss widened to $13.5 million (67 cents/diluted share) from $11.2 million (loss of 56 cents/share) in the same quarter a year earlier.
Revenue: Rose to $97.2 million YoY.
Actual vs. Wall St. Expectations: MDTH reported adjusted net income of of 5 cents/share. By that measure, the company fell short of mean estimate of 6 cents/share. Estimates ranged from 3 cents per share to 9 cents per share.
Quoting Management: Commenting on the quarter, O. Edwin French, MedCath President and Chief Executive Officer, stated, "With a smaller number of operating units compared to the prior periods there's potential for less predictability in this and future quarters. Our operating units were able to mitigate the risk this quarter with good cost management on soft admissions so I'm especially pleased with the earnings accretion we're reporting."
Competitors to Watch: Universal Health Services, Inc. (NYSE:UHS), Community Health Systems (NYSE:CYH), Tenet Healthcare Corp. (NYSE:THC), Health Management Associates, Inc. (NYSE:HMA), SunLink Health Systems, Inc. (AMEX:SSY), LifePoint Hospitals, Inc. (NASDAQ:LPNT), Dynacq Healthcare, Inc. (NASDAQ:DYII), Select Medical Hldgs. Corp. (NYSE:SEM), HCA Holdings Inc (NYSE:HCA), and RehabCare Group, Inc. (NYSE:RHB)
Stock Performance: Shares of MDTH are unchanged from the previous close.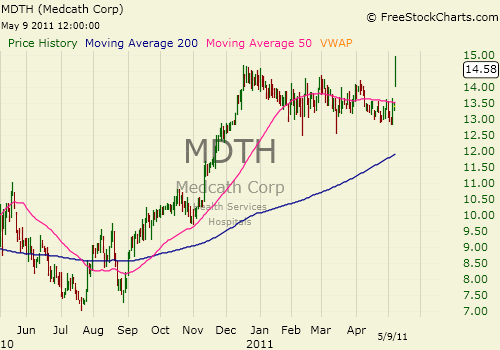 Don't Miss Wall St. Cheat Sheet's newest Feature Trades of the Month!