Medical Device Market Ready to Cut the Cord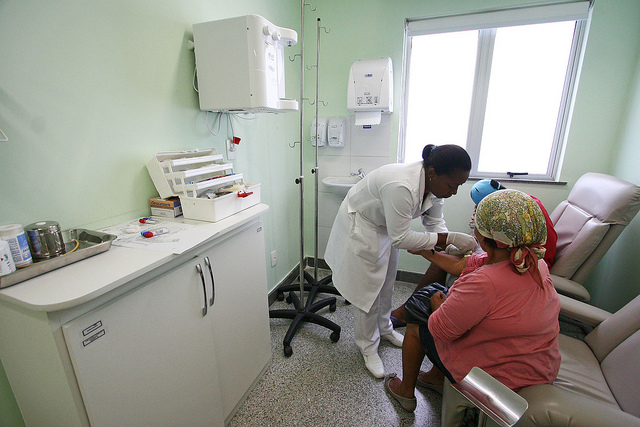 Medical devices may finally be ready to cut the cord after the U.S. Food and Drug Administration (FDA) issued its final guidance on wireless medical devices. The FDA's final guidance addresses considerations regarding the incorporation and integration of radio frequency wireless technology into medical devices. By addressing topics ranging from technology selection to security, the regulatory agency has cleared up some of the major questions that have hindered widespread adoption of wireless technologies. The guidance also provided recommendations for FDA pre-market submissions for wireless medical devices.
Healthcare companies like General Electric Co. (NYSE:GE) and Philips Electronics NV (NYSE:PHG) have been pushing for the adoption of these wireless technologies for years. After successfully pushing for a dedicated spectrum from the FCC, these companies are in a great position to aggregate and analyze a large amount of data in order to determine patients that might be at-risk or in need of physical medical intervention.
"It really helps to manage the wires and get patients out of bed [and] that is a big deal," said Judy Hanover, Research Director at IDC Health Insights, in a 2012 interview with The Wall Street Journal. "We do see more in-home care and monitoring to help avoid hospitalization. As the population ages, that will become more and more important."
Medical Device Makers Go Wireless
Investors looking to capitalize on the growth in wireless medical devices have a number of options, ranging from blue chip medical device manufacturers to smaller pure plays. General Electric is developing a range of wireless medical devices for hospitals to monitor vital signs and analyze that data, while Philips is working on wireless respiratory monitors and related technologies designed to make patient monitoring easier and more effective. According to one study by the Institute for Healthcare improvement, monitored patients have a 48 percent chance of surviving cardiac arrest, while unmonitored have just a 6 percent chance.
In the meantime, wireless providers like Verizon Communications Inc. (NYSE:VZ) are creating platforms for smaller device makers to build atop. For instance, the Verizon Wireless Converged Health Management Device recently secured a Class II 510-K clearance from the FDA to provide remote monitoring of biometric data from physiological measurement devices intended for use in the home with the ability to connect to supported devices.
Companies like Medtronic Inc. (NYSE:MDT) offer similar services to help physicians monitor patients remotely. For example, Medtronic's CareLink remote patient monitoring service provides 24/7 access via a secure internet portal to a wide range of trended reports offering information comparable to an in-office visit. The Medtronic reports can even be exported to hospital networks or HER for greater accessibility and clinical documentation.
A Profitable & Growing Pure-Play
AmbiCom Holdings Inc. (ABHI.PK) designs and develops wireless products for the medical device industry. Since it was founded in 2007, the company has sold over a million of its OEM modules to blue chip clients like Cardinal Health Inc. (NYSE:CAH), Siemens AG (NYSE: SI), Draegerwerk AG & Co., and Roche Holdings Ltd. (RHHBY.PK). These deals have produced a robust stream of recurring revenues for shareholders.
During fiscal year 2013, the company reported revenues that increased 120 percent to $3,300,471, while net income improved to $530,013 or $0.03 per diluted share. These figures resulted in a price-earnings ratio of 6.4x and a price-sales ratio of 0.56x, which are both significantly below industry-averages despite the company's triple digit growth rates. The firm also has a robust balance sheet with a 2.4x quick ratio and no long-term debt.
Management plans to continue this growth by introducing new OEM wireless products, like its new SDIO card, as well as by introducing wireless home medical devices of its own, including its solar toothbrushes coming out next year. The wireless OEM products should help ensure that its existing recurring revenues remain growing and in tact, while the retail expansion strategy could increase long-term shareholder value by moving up the value chain. Learn more and sign up to follow AmbiCom Holdings here.
Investing in Wireless Medical Devices
Investors have a number of different options when investing in the wireless medical device revolution. Blue chip medical device manufacturers, like General Electric or Medtronic, offer relatively stable plays in the space, while wireless providers like Verizon are building the platforms that may ultimately support standardized devices. But, these large companies may only receive a small boost to their growth over the long-term with the transition to wireless.
Those looking for a pure-play in the space may want to look at companies like AmbiCom Holdings, which provides the underlying wireless technologies themselves. While smaller stocks like these inherently involve greater risk, investors have much greater exposure to the wireless aspect of the medical device industry than otherwise possible. And with profitable operations, AmbiCom involves less risk than many other micro-cap or small-cap stocks.
Originally written for SECFilings.com, a leading provider of SEC filings, real-time alerts, and in-depth analysis, with a team of experienced financial writers that cover quarterly/annual reports, insider trading/hedge fund activity, and IPOs, spin-offs, and other disclosures of interest identified from time to time within documents filed with U.S. regulatory agencies. SECFilings.com may be compensated for its services in the form of cashed-based compensation or equity securities in the companies they write about, or a combination of the two. For a full disclaimer, click here SECFilings.com/disclaimer.aspx.
Don't Miss: Will GlaxoSmithKline Get Away in China?