Medtronic Earnings: Increasing Costs Tighten Margins as Net Income Falls
S&P 500 (NYSE:SPY) component Medtronic Inc. (NYSE:MDT) reported its results for the fourth quarter. Medtronic, Inc. provides products and therapies for medical professionals to meet the healthcare needs of their patients.
Don't Miss: Wall St. Cheat Sheet's newest Feature Trades of the Month!
Medtronic Earnings Cheat Sheet for the Fourth Quarter
Results: Net income for the medical appliances and equipment company fell to $776 million (72 cents/share) vs. $954 million (86 cents/share) a year earlier. A decline of 18.7% from the year earlier quarter.
Revenue: Rose 2.4% to $4.29 billion YoY.
Actual vs. Wall St. Expectations: MDT reported adjusted net income of of 90 cents/share. By that measure, the company fell short of mean estimate of 93 cents/share. Estimates ranged from 91 cents per share to 93 cents per share. Analysts were expecting revenue of $4.29 billion.
Quoting Management: "We saw steady growth across most of our businesses and geographies, which was offset by challenging dynamics in the U.S. implantable cardiac defibrillator (ICD) and Spinal markets," said Bill Hawkins, Medtronic chairman and chief executive officer. "We continue to advance our industry-leading pipeline, making strategic investments in our emerging technologies and emerging market operations that will drive our performance and position us well for future growth."
Key Stats:
From the third quarter, the company's current liabilities fell to $4.71 billion from $6.41 billion.
Gross margin shrunk 0.8 percentage point to 75.1%. The contraction appeared to be driven by rising costs as the figure rose 5.7% from the year earlier quarter while revenue rose 2.4%.
The company fell short of forecasts after beating estimates in the previous two quarters. In third quarter, it topped the mark by 3 cents, and in second quarter, it was ahead by one cent.
Revenue has now gone up for three straight quarters. In third quarter, revenue rose 2.9% to $3.96 billion while the figure rose 1.7% in second quarter from the year earlier.
The decrease in profit last quarter comes after net income rose in the previous quarter. In the second quarter, net income rose 11.2% to $566 million.
Competitors to Watch: Boston Scientific Corp. (NYSE:BSX), St. Jude Medical, Inc. (NYSE:STJ), Edwards Lifesciences Corp (NYSE:EW), Johnson & Johnson (NYSE:JNJ), ZOLL Medical Corporation (NASDAQ:ZOLL), Abbott Laboratories (NYSE:ABT), Stryker Corporation (NYSE:SYK), Integra LifeSciences Hldgs. Corp. (NASDAQ:IART), Intuitive Surgical (NASDAQ:ISRG), CONMED Corporation (NASDAQ:CNMD), and Greatbatch Inc. (NYSE:GB).
Stock Performance: Shares of MDT are down 2.5% this morning from the previous close of $41.26.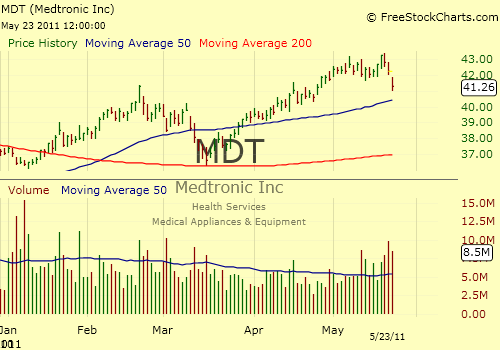 Don't Miss Wall St. Cheat Sheet's newest Feature Trades of the Month!