Merck Leases Experimental Cancer Drug to AstraZeneca and 2 Other Dow Movers to Watch
Merck & Co., Inc. (NYSE:MRK): Current price $48.31
It was announced that Merck has licensed its experimental cancer drug to AstraZeneca Plc for $50 million upfront in a transaction which indicates that the United Kingdom's number-two drugmaker continues to rebuild its pipeline. Through the terms, Merck, which is the second-biggest American drugmaker, will also be eligible for future payments connected with the development and regulatory milestones along with tiered royalties. The drug, referred to as MK-1775, is presently in mid-stage trials in combination with standard-of-care therapies for the treatment of patients suffering from certain types of ovarian cancer.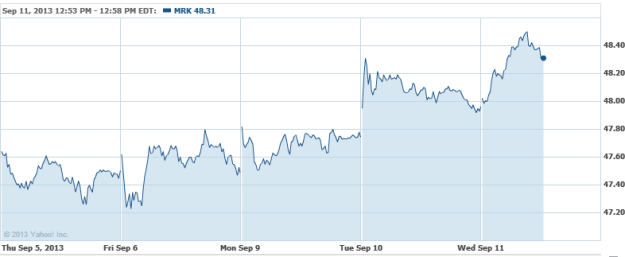 American Express Co. (NYSE:AXP): Current price $74.91
President Steve Squeri of American Express global corporate services says that the credit card has sufficient investment capacity, even while maintaining expense growth under 3 percent. At the Barclays Global Financial Services Conference in New York on Wednesday, Squeri observed that, "When you say something like you're going to hold your operating expenses under 3 percent, one of the concerns that immediately comes up is, are you going to have enough investment capacity. We believe we do."
Chairman and Chief Executive Kenneth I. Chenault has targeted expense growth at less than 3 percent for the next two years, which Squeri said is a goal the firm is "very confident we'll hit," adding that, in the first half of 2013, costs have been little changed year-over-year.

Cisco Systems Inc. (NASDAQ:CSCO): Current price $24.32
On Wednesday, at the Meeting of the Minds conference, Cisco announced the release of Smart+Connected City Wi-Fi, representing an integrated solution tailored toward assisting global cities provide citywide connectivity and to set up a platform in which the Internet of Things can be fully utilized to develop new services for citizens.
In urban centers these days, Wi-Fi accessibility moves beyond Internet access. With an underlying network in place, city officials may deliver the sort of connected services that will help meet the daily pain points of urban life such as parking, public safety, and energy conservation.