Merck Loses Temodar to Patent Cliff and 2 Other Dow Movers to Watch
Merck & Co. Inc. (NYSE:MRK): Current price $48.39
Teva Pharmaceutical Industries Ltd. and Perrigo Co. on Monday introduced a generic equivalent to Merck's Temodar (temozolomide), the latter having dropped off the edge of its patent cliff. First to file was Teva, making the drug eligible for 180 days of marketing exclusivity under Food and Drug Administration guidelines. Merck's product website indicates that Temodar is a prescription medicine used to treat adults with certain brain tumors; the drug blocks cell growth, particularly those that are rapidly growing, like cancer cells. The firm also said Temodar may shrink the size of certain brain tumors in some patients.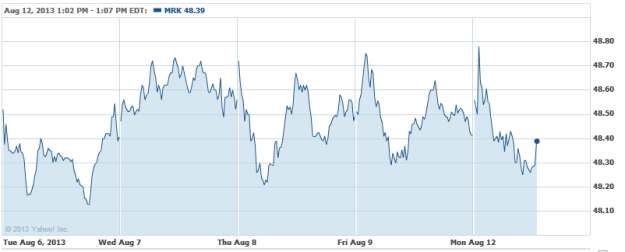 JPMorgan Chase & Co. (NYSE:JPM): Current price $54.06
JPMorgan more than doubled its 2013 issuance projection for collateralized loan obligations in Europe up to 10 billion euros, or $13 billion. This revision from a prior 4 billion euros target follows a 2.14 billion euros "boomlet" in sales since last month, versus  2.4 billion euros of CLOs issued in the first half of 2013, according to JPMorgan analysts led by Rishad Ahluwalia in a research note released last Thursday.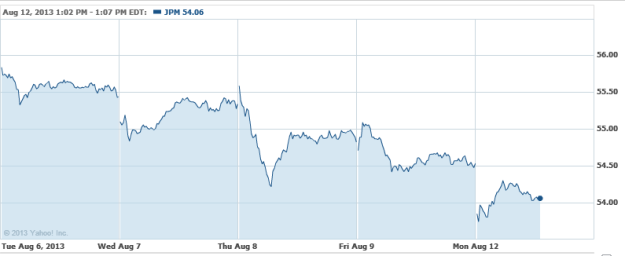 General Electric Co. (NYSE:GE): Current price $24.19
GE Capital's Commercial Distribution Finance division announced it has seen positive trends in the Canadian marine, motor sports, and recreational vehicle industries through the first half of 2013, and also it anticipates that favorable conditions should continue into 2014. The division found that dealers' inventory orders are up in all three categories. The aging of inventory has fallen off in motor sports and marine while remaining flat year-over-year in RVs.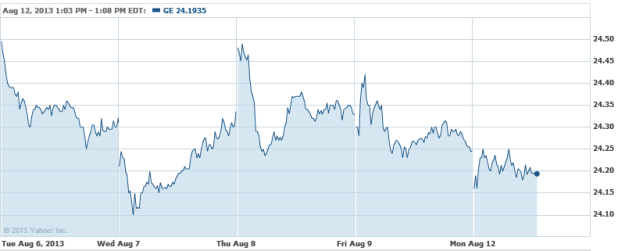 Don't Miss: Can Microsoft Take the Government to the Cloud?