Merck Partners with Bristol-Myers and 2 More Dow Movers to Watch
Merck & Co. (NYSE:MRK): Current price $48.66
Merck and Bristol-Myers Squibb Company (NYSE:BMI) will conduct a mid-stage clinical trial of a drug regimen created to treat the most common type of the hepatitis C virus. The trial will examine a combination of Bristol's drug daclatasvir, and Merck's MK-5172. Merck will run the trial in which patients suffering from genotype 1 hepatitis C will be monitored. Hepatitis C is both the most common type of the virus and the hardest to treat. Bristol-Myers is running late-stage trials of daclatasvir and MK-5172 is in mid-stage testing.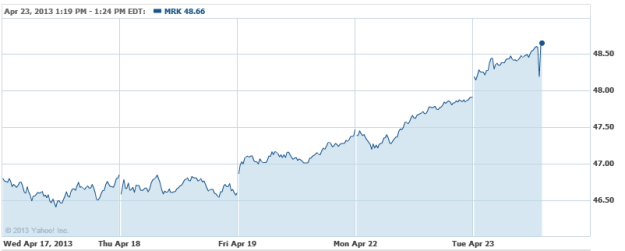 McDonald's Corporation (NYSE:MCD): Current price $100.10
The consumer protection agency Procon, in the state of Sao Paulo in Brazil, has targeted the Happy Meal, penalizing McDonald's on Monday for aiming at children with its advertising and toys. The agency fined the fast-food behemoth $1.6 million, adding fuel to a worldwide debate regarding fast food and public health. As in Brazil, which is Latin America's largest economy, a lot of the debate surrounds how McDonald's and other fast-food chains market to children and other young consumers.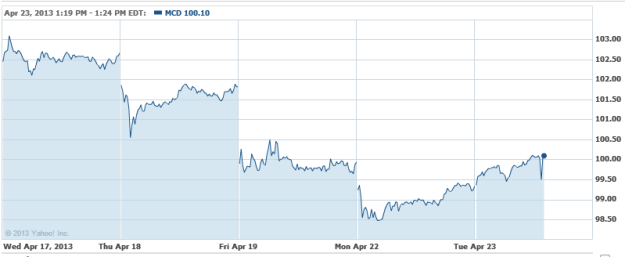 American Express Company (NYSE:AXP): Current price $67.37
American Express OPEN reported the introduction of ReceiptMatch, a new feature as a part of each Business Card from American Express OPEN that matches images of Business Card receipts, to transactions to their online statements. It will no longer be necessary for small business owners and their employees to sort through amounts of receipts, and then manually reconcile them with charges on their statement or depend upon hand written notes. With ReceiptMatch, all that is needed is taking a photo of a Business Card receipt with an iPhone or Android phone, and the application matches the receipt image to the proper line item in the business' online statement, including any additional notes that are typed in. Along with the mobile application, Business Cardmembers may have receipts matched to their statement by emailing them to receipts@open.com.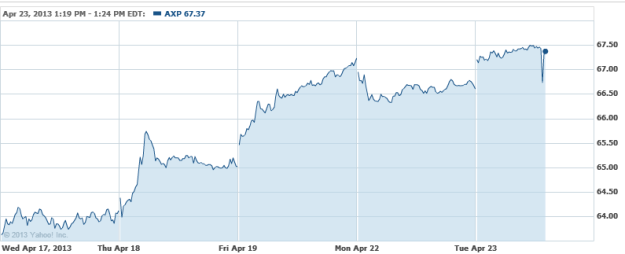 Investing Insights: Will UnitedHealth Group Surge Higher?