Merck Will Sack 8,500 Employees and 2 Other Dow Movers to Watch
Merck  & Co.  (NYSE:MRK): Current price $48.42
Merck shares are down around 0.50 percent Wednesday, after Chief Executive Ken Frazier announced that his company is sacking 8,500 workers and implementing other cost-reduction measures in a restructuring project to center more heavily on its commercial and research and development operations. In a statement, Frazier observed that, "These actions will make Merck a more competitive company, better positioned to drive innovation and to more effectively commercialize medicines and vaccines." The drugmaker intends to lower operating expenses by $2.5 billion by the end of 2015. The 8,500 job eliminations announced Tuesday, when added to previously reported layoffs of 7,500 employees, will shrink Merck's total workforce by 20 percent.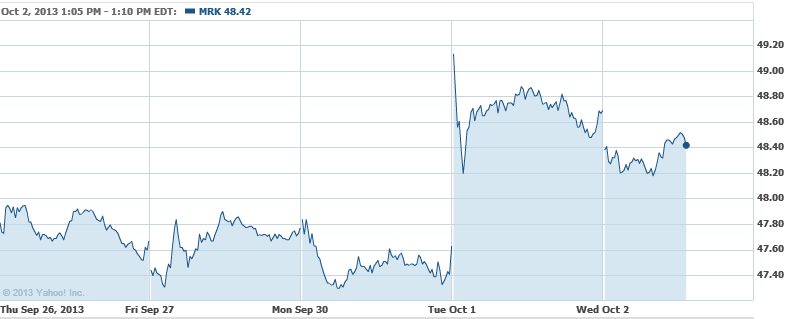 Goldman Sachs Group Inc. (NYSE:GS): Current price $159.27
On Wednesday Goldman Sachs said that it will purchase a $1.46 billion interest in Denmark's number-one utility, Dong Energy A/S, which is reinforcing its balance sheet after losing money on failed natural gas plays. The acquisition will give Goldman a 19-percent stake in the state-controlled Dong. Denmark's government, which withdrew a planned initial public offering of Dong in 2008, said in February that it will divest a stake in the company while writedowns jumped.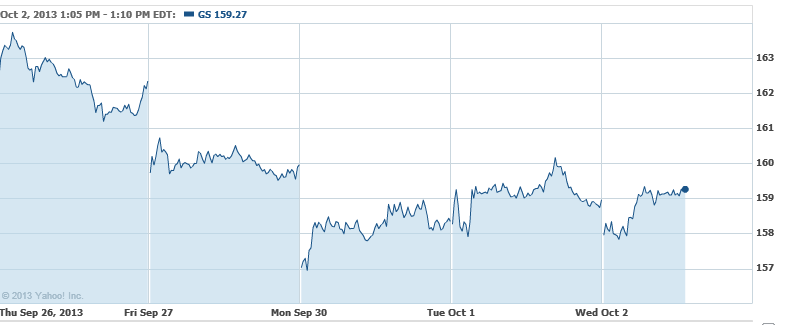 JPMorgan Chase & Co. (NYSE:JPM): Current price $52.29
JPMorgan has said that Bruce McNamer will join it as the new head of Global Philanthropy and chief executive of the JPMorgan Chase Foundation, and that Dalila Wilson-Scott has been named president of the Foundation. Chairman and Chief Executive Jamie Dimon comment that, "The private sector needs to step up and do its part to address the critical challenges we face. We are thrilled to bring on board a leader with Bruce's experience and passion who can help us drive our impact on economic growth and progress in the communities we serve."

Don't Miss: JPMorgan Mole: Bank Exaggerated Quality of Mortgages.