Merck's Suvorexant In High Doses Rejected By FDA and 2 Other Dow Movers to Watch
Merck & Co. (NYSE:MRK): Current price $46.51
Merck reports that the FDA will not okay high doses of its experimental insomnia drug suvorexant, due to fears about its safety. However, the drug manufacturer indicated that the regulator said that it would approve lower doses of the drug, once Merck provides additional data. Spokesman Steve Cragle says that the firm is talking with the FDA to find out exactly what studies are required.

The Coca-Cola Company (NYSE:KO): Current price $40.37
According to Reuters, the world's largest Coke bottler, Mexico's Coca-Cola Femsa, announced Friday that it will acquire 100 percent of its Brazilian peer Companhia Fluminense at a cash price of $448 million. The buyer said that Companhia Fluminense had estimated pro forma consolidated earnings before interest, taxes, depreciation, and amortization in the year ending in March at $40 million. The company to be purchased produces and distributes Coca-Cola drinks in 141 cities in Sao Paulo, Minas Gerais and Rio de Janeiro states.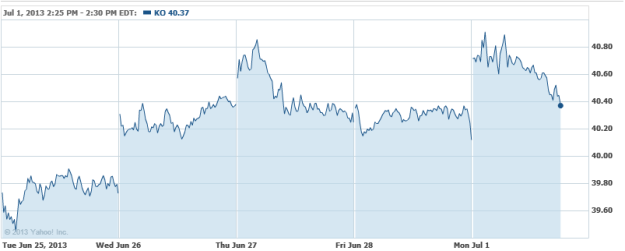 Procter & Gamble (NYSE:PG): Current price $78.05
P&G and Accenture have won the Outsourcing Excellence Award in the "Most Innovative" category by the resource of outsourcing best-practice information Outsourcing Center. The award honors Accenture's and Procter & Gamble's collaboration on a commercial services program in which Accenture oversees P&G's digital marketing campaigns, e-retailer content and virtual reality centers.