Metals Recap: Gold and Silver Decline As the Dollar Gains
On Friday, gold (NYSE:GLD) futures for December delivery fell $17.40 to settle at $1,635.80 per ounce, while silver (NYSE:SLV) futures dropped $1.01 to settle at $30.99.
Markets were up in general after the better than expected payroll number, but the markets gave up gains as more drama from Europe reached the US.  Spain and Italy's debt was downgraded today by Fitch ratings agency.  Fitch cited slow growth and high debt in cutting Spain's sovereign credit rating, while Italy received a cut because of slow growth, high public debt, and political issues.  Fitch will decide on Portugal's rating in Q4.  The downgrade sent the euro sharply lower and the dollar (NYSE:UUP) higher.
POPULAR: What Does the Unemployment Picture Mean for Precious Metals?>>
The chart below shows the volatility (NYSE:VXX) in silver as the dollar bounced higher.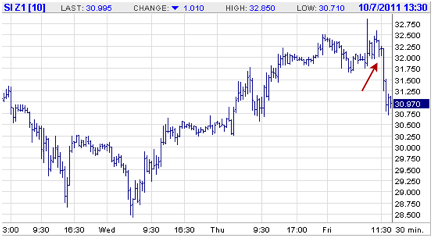 After morning gains, many precious metal equities fell in afternoon trading.  Gold miners (NYSE:GDX) such as Barrick Gold (NYSE:ABX) and Yamana Gold (NYSE:AUY) fell more than 2% during the day.  Silver miners (NYSE:SIL) were affected more than gold. First Majestic Silver (NYSE:AG) and Endeavour Silver (NYSE:EXK) declined more than 6% before the closing bell. Although copper prices (NYSE:JJC) rebounded today, it was not enough to keep Freeport-McMoRan Copper & Gold (NYSE:FCX) in the green.  Shares fell more than 3% during the day.
If you would like to receive more professional analysis on equity miners and other precious metal investments, we invite you to try our premium service free for 14 days.
POPULAR: What Does the Unemployment Picture Mean for Precious Metals?>>