MFA Financial Earnings: Beat Wall Street Estimates
MFA Financial, Inc. (NYSE:MFA) announced financial results for the first quarter. MFA Financial, Inc. is a mortgage real estate investment trust that invests primarily in hybrid and adjustable rate mortgage securities issued or guaranteed by an agency of the United States' government.
Don't Miss: Wall St. Cheat Sheet's newest Feature Trades of the Month!
MFA Financial Earnings Cheat Sheet for the First Quarter
Results: MFA delivered first quarter net income of $80.4 million, or $0.27 per common share.
Book Value: Book value per common share increased to $7.86 at the end of the first quarter versus $7.68 at 2010 year-end.
Actual vs. Wall St. Expectations: Analysts had been expecting earnings of 23 cents a share (YahooFinance).
Quoting Management: Stewart Zimmerman, MFA's Chairman of the Board and CEO, said, "MFA continues to provide stockholders with attractive returns through appropriately leveraged investments in both Agency and Non-Agency residential MBS. In the first quarter, we continued to implement our strategy of identifying and acquiring Non-Agency MBS with what we consider to be superior loss-adjusted yields at prices well below par. We currently project that approximately 60% of our second quarter 2011 Core Earnings will be generated by Non-Agency MBS. Our goal remains to continue positioning MFA to generate double-digit returns on equity over time."
William Gorin, MFA's President, added, "Through investment in both Non-Agency and Agency MBS, we continue to generate attractive returns with reduced leverage and with less correlation to changes in interest rates." In the first quarter, MFA's Non-Agency MBS (adjusted for the impact of MBS Linked Transactions) generated an unlevered loss-adjusted yield of 8.26%. At March 31, 2011, MFA owned $3.608 billion market value of Non-Agency MBS (including Linked Transactions) with an average amortized cost of 73% of par. At March 31, 2011, MFA owned $7.375 billion of Agency MBS with an average amortized cost basis of 102.3% of par, consisting of $5.665 billion of hybrid and adjustable rate MBS ("ARM-MBS") and $1.710 billion of 15-year fixed rate MBS."
Key Data: In the first quarter of 2011, MFA accelerated its purchases of Agency and Non-Agency MBS. MFA anticipates that the majority of its assets will continue to be whole pool Agency MBS. The following table presents MFA's asset allocation as of March 31, 2011 and the first quarter 2011 yield, cost of funds and spread for the various asset types.
Competitors to Watch: PennyMac Mortgage Investment Trust (NYSE:PMT), Redwood Trust, Inc. (NYSE:RWT), Anworth Mortgage Asset Corp. (NYSE:ANH), New York Mortgage Trust, Inc. (NASDAQ:NYMT), ARMOUR Residential REIT, Inc. (AMEX:ARR), American Capital Agency Corp. (NASDAQ:AGNC), Bimini Capital Managment, Inc. (BMNM), ECC Capital Corporation (ECRO), Dynex Capital Inc. (NASDAQ:DX), and Origen Financial, Inc. (ORGN)
Stock Performance: Shares of MFA are up 0.3%.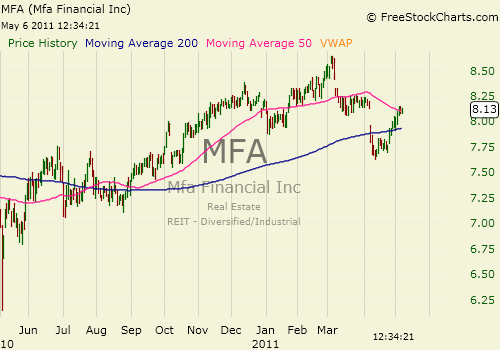 Don't Miss Wall St. Cheat Sheet's newest Feature Trades of the Month!