MGM To Build Casino In Massachusetts and 2 Other Hot Stocks To Watch
MGM Resorts International (NYSE:MGM): Current price $14.83
On Wednesday, Springfield, Massachusetts officials formally signed a host community agreement with MGM Resorts, and Mayor Domenic Sarno says that he is confident that the city will have the best casino proposal to offer the resorts giant in the western region of the state. Sarno said on Tuesday that he had chosen MGM over a rival proposal from Penn National Gaming. The agreement requires MGM to make annual payments to Springfield in excess of $25 million if the casino is built there.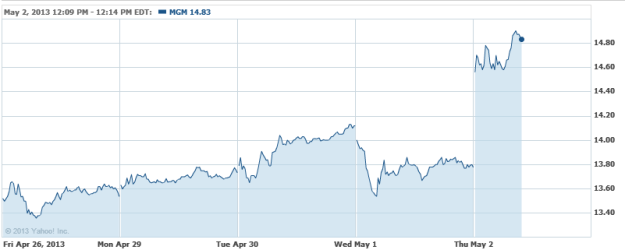 Brocade Communications Systems (NASDAQ: BRCD): Current price $5.27
Brocade reported on Wednesday strong testing results performed by ESG Lab for EMC VSPEX Proven Infrastructure solutions, enabled with the Brocade VDX Ethernet fabric data center network switches for cloud-optimized configurations of 100 virtual machines and 500 virtual desktop instances. The testing performed usual workloads for each configuration which small and mid-sized businesses typically deploy in support of rapid data growth and changing business requirements.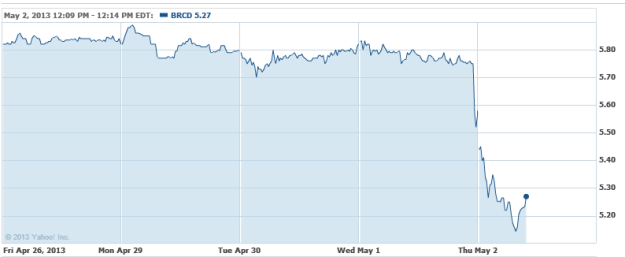 Sprint Nextel Corporation (NYSE:S): Current price $7.08
Sprint has announced that it will shut down the iDEN Nextel National Network remain on schedule for the end of June, as originally reported in May of 2012. The last full day of iDEN service will be June 29, and shutdown commences Sunday, June 30, and will go on throughout the day. At that point, iDEN devices will then no longer receive voice service, including 911 calls or data service. Sprint will close switch locations in quick succession on June 30, to be followed by powering down equipment and eliminating backhaul at each cell site.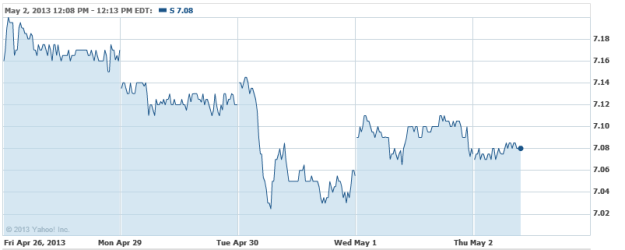 Don't Miss: Chart of the Day: These 5 American Giants Lead the Way.