Michael Kors: Bringing Style to the S&P 500

"One day you're in, and the next, you're out." Heidi Klum's Project Runway catchphrase applies not only to fashion, but to former Project Runway judge Michael Kors' fashion company Michael Kors Holdings Limited, (NYSE: KORS) which is set to join the S&P 500 club on November 1. It will replace NYSE Euronext Inc. (NYSE: NYX) on the index. NYSE Euronext is set to be acquired by another S&P 500 company, IntercontinentalExchange Inc. (NYSE:ICE).
The S&P 500 is commonly used as a bellwether of the U.S. economy, and is meant to reflect market conditions. The 500 companies that comprise the index are for factors such as liquidity, market size, and the company's industry. A team of analysts at S&P evaluate and select the companies that will be features on the index.
Michael Kors started his namesake company in 1981. He announced in December 2011 that the company was going public, and that price per share was set at $20. Michael Kors Holdings Limited is headquartered in Hong Kong, and is involved in design, distribution, sales, and marketing of clothing and accessories for men and women. Since 2011, the stock has strutted up the charts — to almost four times its original share value.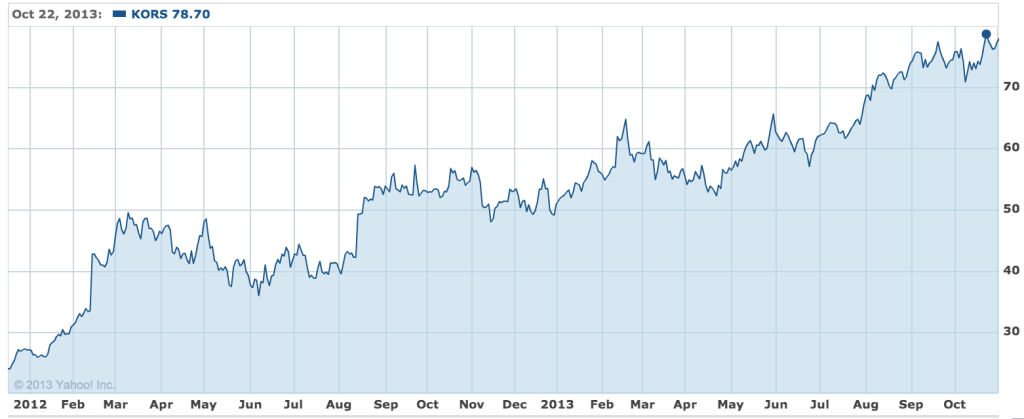 The success of the company's IPO has other fashion houses talking of taking high street to Wall St. The New York Times DealBook spoke with an investment banker who preferred to remain anonymous about other designers considering the Kors-IPO route. "You might not see these designers filing for an I.P.O. tomorrow, but they have all had discussions with advisers and are positioning themselves to go public," the source said, adding that, "You can be sure that the Kors juggernaut looms large in these talks."
It is easy to see why, as the company's first-quarter 2014 earnings report saw across the board year-over-year improvements for the company. In the first-quarter for 2014, diluted earnings per share were 61 cents, and net income was $125.0 million. For the same period in 2013, the numbers were 34 cents per diluted share and a net income of $68.6 million.
"Our exceptional first-quarter financial results demonstrate the sustained strong demand for the Michael Kors luxury brand," John Idol, Chair and CEO of Michael Kors Holdings Limited said in the report. He added that, "[A]s we continue to successfully execute on our strategic initiatives, we remain excited about our future growth potential." The company's second-quarter results are due on November 4.
Don't Miss: American Airlines CEO Is Optimistic About the DoJ Settlement.