Michelle Obama to Speak at Disney's Veterans Institute Workshop and 2 Other Dow Movers to Watch
Walt Disney Co. (NYSE:DIS): Current price $69.07
First Lady Michelle Obama is set to give the keynote address at Disney's first Veterans Institute workshop at Walt Disney World Resort on November 14. Expanding on its successful Heroes Work Here initiative to recruit, train, and support military veterans, Disney is hosting the free workshop to inspire other firms to employ servicemen and women transitioning back to the private sector. The first lady has made backing military families and United States troops her top priority. In 2011, Michelle Obama and Jill Biden introduced Joining Forces, an initiative aimed at connecting servicemen and women, veterans, and military spouses with the resources they need to find jobs back at home.

Procter & Gamble Co. (NYSE:PG): Current price $81.54
Proctor & Gamble reported that its fiscal first-quarter profit rose by 7.6 percent, while sales of home-care goods and baby products gained. Net income moved to $3.03 billion, or $1.04 per share, from $2.81 billion, or 96 cents, year-over-year, according to a Monday statement. Excluding certain items, profit stood at $1.05 per share, equaling the average of 20 analyst estimates compiled by Bloomberg. Chief Executive A.G. Lafley is endeavoring to lower costs and debut new products after returning in May to rebound growth at the consumer products giant. During this time, price cuts and increasing spending on marketing have aided Procter & Gamble in taking back ground from Unilever in other categories.

Goldman Sachs Group Inc. (NYSE:GS): Current price $161.60
Stock market research firm Goldman Small Cap Research announced Monday that it begun research coverage of WhereverTV Broadcasting Corp., a low-cost net generation subscription television provider that offers customers a portable television platform that lets subscribers view live channels anywhere in the world. WhereverTV is set to change the manner in which consumers receive worldwide access and watch live television and video programming. Industry estimates suggest that the global online television and video market could grow from $3.8 billion in 2010 to $28.9 billion in 2017.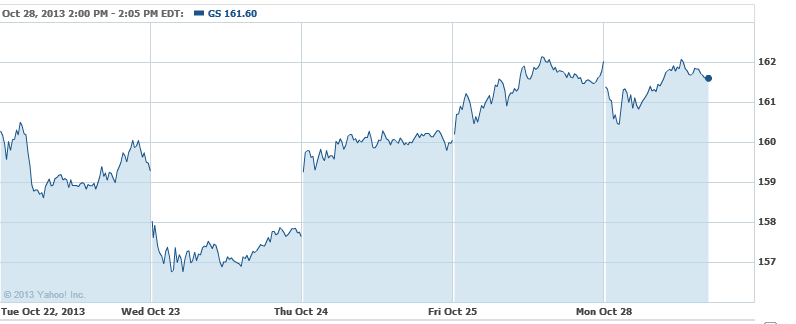 Don't Miss: Will Aereo Change Television?