Microchip Technology Earnings: Three Straight Quarters of Net Income Growth
S&P 500 (NYSE:SPY) component Microchip Technology Incorporated (NASDAQ:MCHP) reported higher profit for the fourth quarter as revenue showed growth. Microchip Technology Inc. develops and makes specialized semiconductor products used in a variety of embedded control applications.
Don't Miss: Wall St. Cheat Sheet's newest Feature Trades of the Month!
Microchip Technology Incorporated Earnings Cheat Sheet for the Fourth Quarter
Results: Net income for Microchip Technology Incorporated rose to $130.6 million (62 cents/share) vs. $75.7 million (40 cents/share) in the same quarter a year earlier. A rise of 72.4% from the year earlier quarter.
Revenue: Rose 36.7% to $380 million YoY.
Actual vs. Wall St. Expectations: MCHP reported adjusted net income of 59 cents/share. By that measure, the company beat the mean estimate of 56 cents/share. Estimates ranged from 56 cents per share to 57 cents per share.
Quoting Management: "Microchip's performance in the March 2011 quarter and in fiscal year 2011 was outstanding. We exceeded the high end of our gross margin and earnings per share guidance, even with the challenging backdrop of the world economy and the Japan crisis," said Steve Sanghi, President and CEO. "The March quarter marked our 82nd consecutive quarter of profitability and is a testimony to the resiliency of our business model."
Key Stats:
The company has enjoyed double-digit year-over-year revenue growth for the past five quarters. Over that span, the company has averaged growth of 55.8%, with the biggest boost coming in the second quarter when revenue rose 68.7% from the year earlier quarter.
The company has now seen net income rise in three-straight quarters. In the third quarter, net income rose 45.2% and in the second quarter, the figure rose more than twofold.
Competitors to Watch: Texas Instruments Inc. (NYSE:TXN), Analog Devices, Inc. (NYSE:ADI), ON Semiconductor Corp. (NASDAQ:ONNN), Atmel Corporation (NASDAQ:ATML), Linear Technology Corp. (NASDAQ:LLTC), IXYS Corporation (NASDAQ:IXYS), Semtech Corporation (NASDAQ:SMTC), STMicroelectronics N.V. (NYSE:STM), Maxim Integrated Products Inc. (NASDAQ:MXIM), and Intel Corporation (NASDAQ:INTC)
Stock Performance: Shares of MCHP are down 0.79% from the previous closing price of $40.65.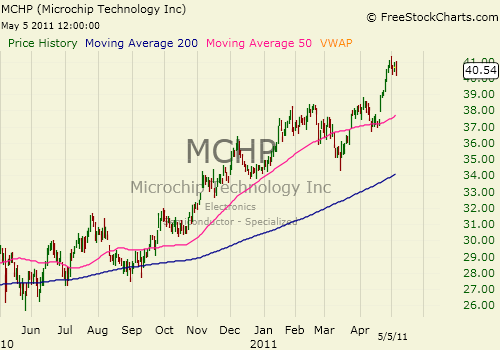 Don't Miss Wall St. Cheat Sheet's newest Feature Trades of the Month!