Micron Develops New Computing Architecture and 2 Other Hot Stocks to Watch
Micron Technology Inc. (NASDAQ:MU): Current price $19.86
On Monday, Micron reported that it has developed a fundamentally new computing architecture that can perform high-speed, comprehensive search and analysis of complex, unstructured data streams. The company's Automata Processor is an accelerator that leverages the intrinsic parallelism of memory and is meant to dramatically push forward computing capabilities in areas like bioinformatics, video/image analytics, and network security which pose challenges for conventional processor architectures due to the amount of complex, unstructured data.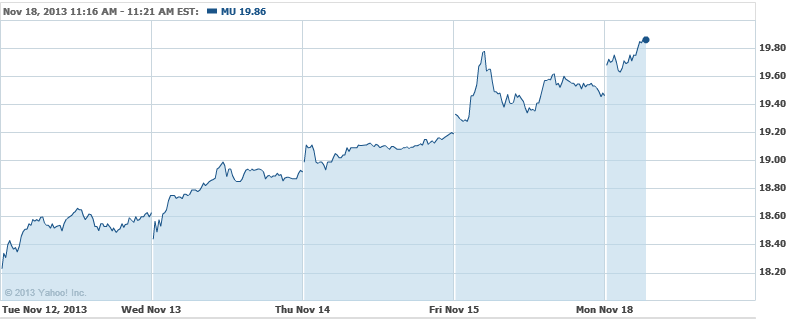 Yahoo! Inc. (NASDAQ:YHOO): Current price $35.87
A plaintiff has brought a lawsuit against Yahoo, claiming that the firm intercepted e-mails sent to users of its mail service, and used the personal data profit from related advertisements. A complaint filed Friday in federal court in San Jose said that the plaintiff seeks damages of $5,000 for each person whose privacy was allegedly invaded. More specifically, it is said that information collected by scanning emails between users and non-users is employed for sharpening advertisements towards them, swelling Yahoo's revenue, according to the filing, which points to Yahoo's published policies for its new e-mail service.

Sprint Nextel Corp. (NYSE:S): Current price $7.66
According to The Verge, Sprint is working jointly with Best Buy Co. to offer 12 months of free cellular service to students who buy a new smartphone from the former. Included in the Unlimited, My Way student promotion are unlimited voice minutes, unlimited texting, and 1 gigabyte of data. To be eligible for the promotion, students must buy a phone, and sign a wireless contract at Best Buy and prove their enrollment at college, high school, or middle school within a 14-day period.

Don't Miss: What Is With Google's New Retail Snow Globe?