Micron-Elpida Deal Approved and 2 Hot Stocks Changing Hands
iGate (NASDAQ:IGTE): Current Price $17.31
iGate (NASDAQ:IGTE) reports fourth quarter EPS of $0.47 which beats estimates by $0.07. However revenues of $271.6 million, which are up 1.5% year-on-year, miss by $0.54 million. Gross margin during the quarter was 40.6% compared to 40.3% in the year ago quarter. 14 new customers were acquired of which seven were Fortune 1000 companies. As of end 2012, the company had 27,554 employees.

Start 2013 better than ever by saving time and making money with your Limited Time Offer for our highly-acclaimed Stock Picker Newsletter. Click here for our fresh Feature Stock Pick now!
Micron Technology Inc (NASDAQ:MU): Current Price $7.80
A US bankruptcy court overruled objections by US bondholders and approved technology deals between bankrupt Elpida Memory Inc and Micron Technology Inc (NASDAQ:MU) and a $15 million patent sale to Rambus Inc.(NASDAQ:RMBS). "The bondholders do not cite any facts to contest the proof that these agreements confer substantial benefits on Elpida's estate," Judge Christopher Sontchi said. Chipmaker Elpida entered bankruptcy in Tokyo in February last year and its US assets fell in bankruptcy proceedings shortly thereafter in a Delaware court. Bond-holders, including hedge funds Linden Advisors, Owl Creek Asset Management and Taconic Capital Advisors, have objected to a plan to sell Elpida to Micron, since approved by the Tokyo court, saying the deal was grossly undervalued.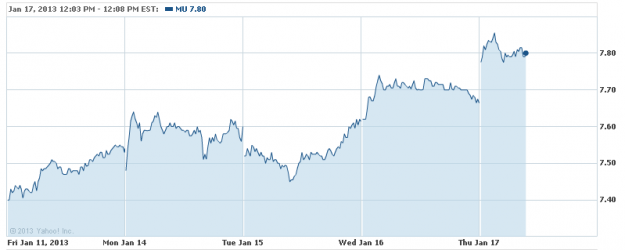 Trina Solar Ltd (NYSE:TSL): Current Price $5.25
Solar photovoltaic cell maker Trina Solar Ltd (NYSE:TSL) announces it has supplied PV modules aggregating 61MW to the Green Tower project in the German state of Brandenburg. A former air strip was converted into a giant solar farm that had rows of modules extending for more than a kilometre. More than 252,000 multicrystalline Trina Solar modules were installed at the facility, said to be one of the most efficient solar plants in the world. Clean solar power from the project would cover the annual energy needs of about 17,000 households.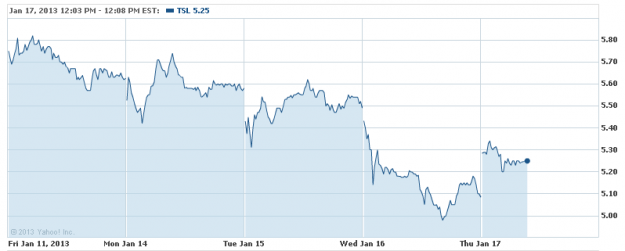 Don't Miss: Can Hewlett-Packard Get Rid of Autonomy?