Micron Wins Over Creditor Appeals and 2 Other Hot Stocks to Watch
Micron Technology (NASDAQ:MU): Current price $11.12
On Thursday, Micron reported the Tokyo High Court's issuance of an order that dismisses the remaining creditor appeals of the Tokyo District Court's approval of Elpida Memory's reorganization plan, which calls for Micron to sponsor the reorganization through which Elpida will join the Micron group of firms. On February 28, the Tokyo District Court okayed the reorganization plan subsequent to an Elpida creditor vote, whereas the creditors voted overwhelmingly to clear the plan. Then on March 29, a number of unsecured creditors of Elpida filed appeals of the District Court's approval order with the Tokyo High Court.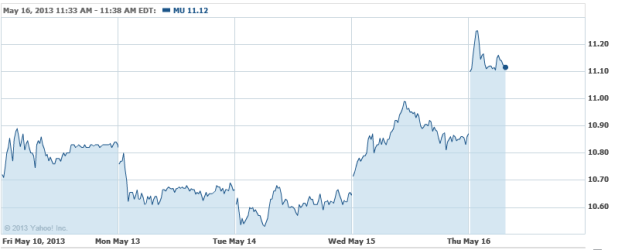 Cisco Systems (NASDAQ:CSCO): Current price $21.07
Cisco Chairman and Chief Executive John Chambers told CNBC on Thursday that he sees "good balance across the board," after his firm's announcement of better-than-anticipated earnings and revenues. As for Cisco's performance, he said in a Squawk Box interview, that "the U.S. is actually looking pretty solid in terms of growth, and that's a good signal for the economy. But also the emerging markets did very, very well for us. I think we're doing well in a tough market. The economy feels good." Chambers added that Cisco's earnings typically lead overall growth by two to four quarters.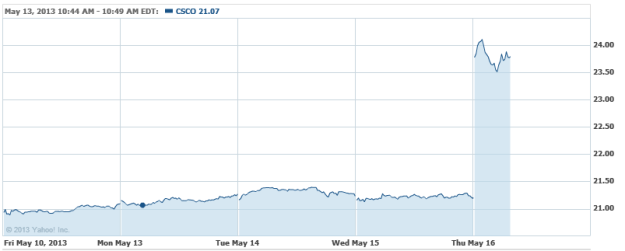 Facebook (NASDAQ:FB): Current price $26.15
Following Facebook's assistance, the ad tech startup Triggit raised $7.4 million last autumn, and now has garnered an additional $6 million, this time by means of a debt arrangement with North Atlantic Capital. Triggit, which has now raised $20 million during the past few years, is focusing on connecting clients with Facebook's Exchange, and is collaborating with international ad buyers in particular.

Investing Insights: Is Facebook a Bargain Here?