Microsoft Acquires InRelease and 2 Other Dow Movers to Watch
Microsoft Corporation (NASDAQ:MSFT): Current price $35.14
On Monday, it was announced that Microsoft will purchase the InRelease business from InCycle Software, which provides application lifecycle management services and Release Management solutions on the .NET platform. The acquisition of the continuous deployment solution, InRelease, will extend release management capabilities to Microsoft's ALM and DevOps solutions, which will aid customers in delivering applications quicker, better and more efficiently.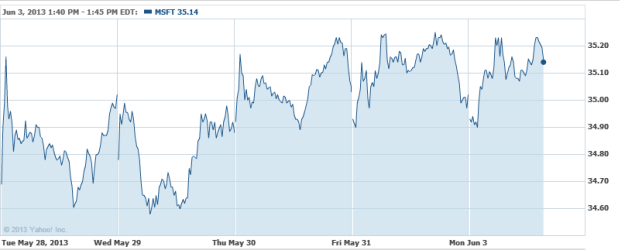 The Travelers Companies (NYSE:TRV): Current price $83.20
The Travelers Institute, which is the public policy division of The Travelers Companies, has brought together industry experts and attendees at the New York Stock Exchange for its third annual Kicking Off Hurricane Preparedness Season symposium to emphasize lessons learned from the Storm Sandy, and to offer preparedness tips for assuaging risk. The event showcased how the City of New York and NYSE Euronext moved rapidly to restore services subsequent to Sandy, and analyzed the key lessons learned before the beginning of the 2013 hurricane season, which officially started on Saturday. Recently, experts at the National Oceanographic and Atmospheric Administration forecast that it is anticipated that oceanic and atmospheric conditions in the Atlantic basin will generate more and stronger hurricanes in 2013.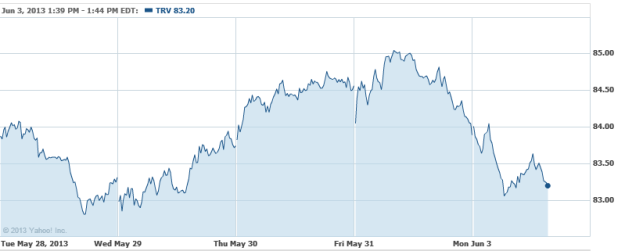 JPMorgan Chase & Co. (NYSE:JPM): Current price $53.60
In support of the ongoing work by responders, volunteers and residents left homeless by tornadoes, Chase brought six food trucks in to serve breakfast, lunch and dinner in Moore on Saturday. The trucks offered free food for workers and neighboring residents who were too busy to take long breaks for meals. The trucks served an array of foods like crepes, pizza, hot dogs and gumbo. President David Page of Chase in Oklahoma said that "many of our customers, neighbors and employees are coping with tremendous damage. We're rolling up our sleeves to help Moore recover and rebuild. We will continue to be one of the key engines toward our region's recovery."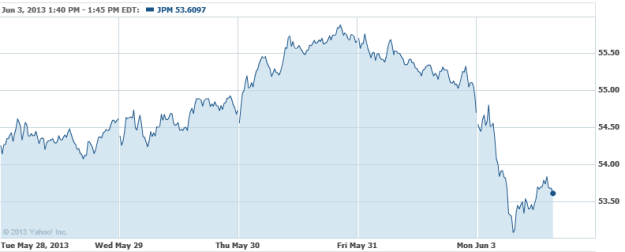 Don't Miss: Xbox One Doesn't Have to Be the 'Best' Gaming Console to Win.